This week on television, there are six huge season finales. Tron: Uprising's first episode gets its television debut! Syfy has its most ridiculous "mockbuster" TV movie of all time. And there's one hour of television that we're recommending you absolutely must not miss, under any circumstances.
Is AI Moving Too Fast? | Future Tech
Click through for details — including clips from the Supernatural season finale and a new Adventure Time!
Today:
Adventure Time (7:30 PM, Cartoon Network):
Check out a clip from "Hug Wolf," and learn what to expect from this harrowing adventure: "After an encounter with a Hug Wolf, Finn goes through a Jekyll and Hyde-like transformation becoming a hug-wolf himself!" Plus then there's a new Regular Show afterwards.
Eureka (9 PM, Syfy):
In "Jack of All Trades,"
DOD psychological assessor Warren Hughes resurfaces, and Carter begins to exhibit strange behavior.
G/O Media may get a commission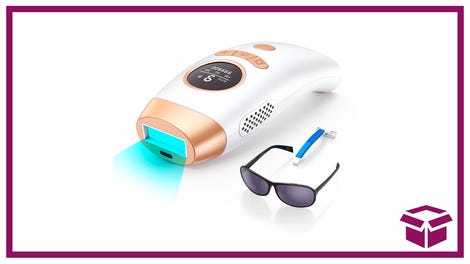 58% Off + Coupon
IPL Hair Removal Device
Also, apparently Jack is swapping bodies uncontrollably, and Allison has to help before Jack's consciousness is gone for good.
Also on TV tonight: a brand new Motorcity on Disney XD at 9 PM, a brand new House (featuring the return of Olivia Wilde) at 9 PM on Fox, and a brand new (to Americans) Lost Girl on Syfy at 10 PM.
---
Tuesday:
Fact or Faked: Paranormal Files (9 PM, Syfy):
We normally wouldn't mention Syfy's random reality TV programming, except that there's nothing else on. And this episode is called "Battleship UFO," which is just such a great episode title. And apparently, trying to ride the wave of popularity for the upcoming Battleship movie. Here's the description:
Evidence of a ghost lurking on the USS North Carolina is examined. Also: A purported UFO sighting in Michigan is investigated.
That's followed by a similarly Battleship-themed episode of Dream Machines, "The Battleship Shredder."
Also on TV tonight: At 9 PM, Travel's Mysteries at the Museum, and then a new United Stats of America on History at 10 PM.
---
Wednesday:
Nature: Cracking the Koala Code (8 PM, PBS):
I'm guessing the "koala code" is something to do with interpreting the sheer level of cuteness. Here's the description:
Learn what's necessary to support a healthy population of koalas by cracking the koala code.
---
Thursday:
Community (8 PM, NBC):
There are three new episodes of the best geek comedy on television, including the season finale. The fun starts with "Digital Estate Planning" — one of those "playing a video game for high stakes" stories that we all love.
PIERCE AND THE STUDY GROUP PAY A VISIT TO HAWTHORNE ENTERPRISES - GIANCARLO ESPOSITO GUEST STARS - Pierce (Chevy Chase) is summoned to Hawthorne Enterprises to discuss his inheritance with his deceased father's former right-hand man, Gilbert Lawson (guest star Giancarlo Esposito, "Breaking Bad"). The study group goes with him for moral support and must all pitch in to play the video game of their life on Pierce's behalf - or risk losing his inheritance.
And at 9 PM, there's a second new Community episode, "The Chang Dynasty." Will Troy sell out to the Air Conditioning Repair Annex to help take back Greendale? That's followed by the season finale at 9:30, in which a dispute over the sandwich shop escalates, and Jeff's former law-school comrade gets involved. This is serious!
Person of Interest (9 PM, CBS):
It's the season finale, and Amy Acker guest stars! Huzzah! Thank goodness one show we like is actually a bona fide hit. And it sounds as though Reese is finally going to learn that his old partner is alive:
When a psychologist's number comes up, Reese must protect her from one of her patients while eluding capture by the FBI, who are closing in fast. Meanwhile, Finch receives an unwelcome visit from an old acquaintance.
Touch (9 PM, FOX):
Meanwhile, this show has also gotten itself a second season, in which Kiefer Sutherland can stumble into even more crazy scrapes thanks to his savant kid. Here's what's happening in "Tessellations":
When Martin is mistaken for a criminal, he must involve himself with a heist crew in order to win back an innocent dock worker's job. Meanwhile, an Israeli boy (guest star Sean Peavy) and Palestinian girl (guest star Eden Modiano) fight to keep their relationship afloat. Clea uncovers some surprising documents about Jake, while Martin and his late wife's sister (guest star Catherine Dent) meet to make a pivotal decision.
Awake (10 PM, NBC):
After last week's totally nuts episode, we're calling it: This is the one piece of television we will actually come to your house and force you to watch. It's a powerful emotional roller-coaster as well as a brilliant mindfuck. And there are just two episodes left, after which it's gone for good. In "Two Birds," it sounds as though Michael is going to go way off the rails in both universes:
Detective Britten (Jason Isaacs) doesn't know who to trust when the truth behind the accident begins to reveal itself and a high-ranking conspiracy threatens both of his realities. In a moment of frustration, Britten decides to take the law into his own hands and goes after Detective Hawkins (guest star Kevin Weisman), putting himself and Bird (Steve Harris) in the crosshairs of the conspirators. Captain Harper (guest star Laura Innes) is instructed to clean up the mess. Later, when questioned about his partner, Detective Vega (Wilmer Valderrama) begins to have concerns about his Captain's intentions.
Also on TV tonight: There's a new Dragon Ball GT on NickToons at 8 PM.
---
Friday:
Nikita (8 PM, The CW):
The season finale! With the President versus Division!
Nikita (Maggie Q) and Michael (Shane West) invade Division in an attempt to capture Percy (Xander Berkeley). Alex (Lyndsy Fonseca) and Sean (Dillon Casey) get caught in a deadly gunfire battle with the U.S. Marines and Ryan (Noah Bean) must convince the President of the United States not to destroy Division until he is sure Nikita and Michael are safely out of the building, but the President is eager to end Percy's reign. Meanwhile, Birkhoff (Aaron Stanford) asks Sonya (guest star Lyndie Greenwood) for help, and Nikita corners Percy in his office, but he pulls out one final trick that may cost her the battle.
Supernatural (9 PM, The CW):
The season finale, and a lot's at stake. Not least of which is this show's credibility. Can this whole "Leviathans" storyline, plus the "Ghost Bobby" thing, actually pay off in a satisfying fashion? Here's what they're telling us:
SAM AND DEAN STORM SUCROCORP TO TAKE DOWN DICK ROMAN - Dean (Jensen Ackles) and Sam (Jared Padalecki) prepare for battle with Dick Roman (guest star James Patrick Stuart). Dick's in the final phase of his plan and the Winchesters must team up with Castiel (guest star Misha Collins), Bobby (guest star Jim Beaver), Meg (guest star Rachel Miner) and Kevin (guest star Osric Chau), the prophet, to stop him. However, Dick is one of the smartest enemies they've ever faced so it's a mind game to see who can keep the upper hand.
Check out a sneak peek!
Grimm (9 PM, NBC):
And another season finale. In "The Woman in Black,"
THE SEARCH FOR THE MYSTERIOUS GOLD COINS INTENSIFIES AS THE BODY COUNT IN PORTLAND RISES - MARY ELIZABETH MASTRANTONIO AND BREE TURNER GUEST STAR - As Nick (David Giuntoli) delves deeper into his life as a Grimm, a trail of grotesque murders reignites the search for the elusive gold coins. The arrival of a mysterious woman in black (guest star Mary Elizabeth Mastrantonio) begins to get in the way of Nick and Hank's (Russell Hornsby) investigation as extra precautions have to be taken to ensure their safety. Meanwhile, Nick's ability to keep his true nature secret from Juliette (Bitsie Tulloch) comes to a tipping point.
Tron: Uprising (9:30 PM, Disney):
You may already have seen the first episode — but if not, then here it is, at left. Or you can watch it Friday, as it premieres at a special night and time. Find out how the Grid got so darn dark between the original Tron and Tron Legacy. Here's the skinny:
Beck is a young mechanic living in Argon City, a growing metropolis in a far off corner of the grid that has just been occupied by General Tesler, a henchman of the notorious Clu. After his best friend Bodhi is ruthlessly derezzed by Clu's army, Beck seeks justice for his lost friend and launches a crusade against the regime. His rebellion captures the attention of Tron, the greatest warrior The Grid has ever known, who sees the potential in Beck and trains him to be his successor. Labeled with the moniker of The Renegade, Beck sparks a revolution to fight for the freedom of The Grid.
Also on TV tonight: A brand new Ancient Aliens on H2 at 10 PM, "Secrets of the Pyramids." Woo!
---
Saturday:
DC Nation (10 AM, Cartoon Network):
In a brand new Green Lantern: The Animated Series, Hal attempts to keep the Red Lanterns from reaching Guardian space, and some tough choices have to be made. And then in "Young Justice," Superboy and Blue Beetle fight Intergang, while Nightwing tries to save the soul of a former comrade. (Check out a couple clips!) And there are the usual awesome DC Comics shorts. That's preceded at 9:30 by a brand new Thundercats.
American Warships (9 PM, Syfy):
Syfy concludes its week-long attempt to cash in the huge popularity of the new Battleship movie with this made-for-TV clone movie, from The Asylum. Actually, this TV movie was called American Battleship until a few days ago — and then Universal launched a lawsuit. (Universal is releasing Battleship in theaters, and NBC Universal is also Syfy's parent company.) The real point, though? This TV movie stars Mario Van Peebles and Carl Weathers! Here's the only synopsis we can find about this fine, fine movie:
The crew of the USS Iowa take on a fleet of hostile alien spaceships. Check out an action-packed trailer!
Also on TV today: A new Transformers Prime on The Hub at 8:30 PM.
---
Sunday:
Avengers: Earth's Mightiest Heroes (11:30 AM, Disney XD):
This episode is especially notable, because it has the title, "The Ballad of Beta-Ray Bill." All true fans of Simonson's Thor are going to make it their mission to watch this one.
While searching for the fire demon Surtur, Thor is attacked by a powerful creature known as Beta Ray Bill, and the unthinkable happens when Bill lifts Thor's hammer as the two battle. Thor must ally himself with this strange warrior to save Asgard before Surtur and his demon army burn it to the ground.
That's preceded at 11 by a new Ultimate Spider-Man.
Animation Domination (8 PM, Fox):
There are season finales of Cleveland Show, The Simpsons, Bob's Burgers, and a one-hour season finale of Family Guy. In particular, The Simpsons features Lady Gaga, who's drawn to Springfield by a psychic force that impels her to help Lisa become more popular. Would that even work?
Game of Thrones (9 PM, HBO):
The second season is starting to reach a climax, as Theon, Arya and a few other characters are making choices that will shape them forever. Here's what to expect this time:
Theon receives a visitor and holds down the fort. Arya calls in her final debt with Jaqen in a way that displeases him. Robb is betrayed. Tyrion and Varys find common ground. Dany ignores Jorah's advice. Stannis and Davos approach their destination, and Davos is offered a reward.
Also on TV tonight:There's a brand new Mythbusters on Discovery at 9 PM. PBS has the season finale of Sherlock at 9 PM. And BBC America has a new special, Planet Earth: Incredible Families, at 10 PM. And there's a new Metalocalpyse on Adult Swim, just after midnight.
Sources: Futon Critic, MSN TV, TV Guide, and various TV studio press releases.