In his Taste Test guest editor intro, Nick Kokonas recounts meeting chef Grant Achatz and founding Alinea, a restaurant that cooks food by freezing it, distills ingredients' essences to vapor and questions the very eating utensils you use everyday.
Let's bend history a bit and pretend it is 1948 and a 22-year-old Miles Davis is playing in a small club in suburban New York. He is well known, but not exactly famous yet. You are a jazz fan and have been to the great clubs in New York, Paris, Chicago and some crazy joint in Helsinki. You sit down, the music starts, and you are certain that you hear the future of jazz right there: Different colors, different cadence, the same yet somehow different—modern but still accessible.
That is not the history of Miles Davis—not even close. But that is how I felt when I first tasted the cooking of chef Grant Achatz. I went to Trio restaurant in suburban Chicago for lunch on a Friday, went back the following week for dinner on a Wednesday... then ate there about 15 more times over the next year. Grant was creating at a new level—not only was the food delicious, it was modern, innovative and intellectually stimulating.
In January of 2004 Grant and I spoke about possibly partnering to build a restaurant. When you meet Miles Davis at a young age, you gotta help to build him a world-stage right? If you didn't you would be kicking yourself in the ass for the next 50 years. On May 4th 2004, we held a dinner at my house to introduce the idea to potential investors, an architect and an interior designer. On May 5th 2005 we opened—exactly one year to the date later. My dad used to tell me that when you have a great idea, the world conspires to help you achieve it. It worked a bit like that. In October 2006, Gourmet Magazine named Alinea the Best Restaurant in the US. This year Restaurant Magazine in the UK placed us at # 10 in the world.
If you're wondering about the name, Alinea literally means "off the line." The restaurant's symbol, more commonly known as the pilcrow, indicates the beginning of a new train of thought, or literally a new paragraph. There's a double meaning: On one hand Alinea represents a new train of thought about food, but we are a restaurant, and everything still has to come "off the line."
G/O Media may get a commission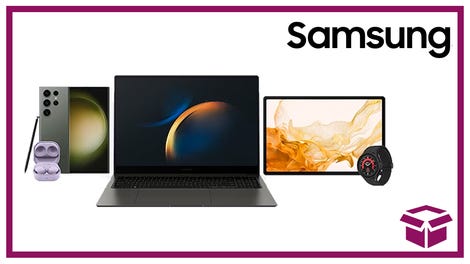 24 hour deals
Discover Samsung - Daily Deal
Grant's background is in the basics and the classics. He grew up cooking in his parents' diner in St. Clair, Michigan, went to the Culinary Institute of America, then learned his haute cuisine chops from the best chef in the land—Thomas Keller. A trip to El Bulli restaurant in Roses, Spain under the direction of chef Ferran Adria let Grant know that you could take classical technique, apply equal measures of whimsy, intelligence, creativity and technology, and transform the dining experience. He spent a few days there, came home, and began to innovate in ways he could not have imagined at the time.
I am not a culinary professional, nor do I have a restaurant background. I have a BA in philosophy, spent my youth programming on a Apple II (including an accounting program for my dad's business that was in use until 1991), and the majority of my professional career trading derivatives and investing in small, mostly web-based tech companies.
We built Alinea to touch all the senses—not only taste. The menu is composed like a symphony or a play, provoking diners, challenging them, and making sure they feel... happy, sad, nostalgia, humor... the full range of human emotion.
Food and technology... not exactly the best of friends lately. With the books Fast Food Nation and Omnivore's Dilemma (both must-reads in my opinion)—and the documentary Food Inc.—there is the sense that anytime technology is applied to food bad things happen. Genetically modified vegetables, cows fed corn and a whole bunch of drugs to allow them to digest it, and whatever keeps a Twinkie around for 50 years—none of that can be good for us, right?
I am here to tell you that innovation when applied to food can be a good thing.... newer can mean better, more plentiful, more delicious. You can apply technology while still being respectful of the ingredients, the environment, and the consumer. It can also help take an ordinary dinner and make it artful. Grant's cuisine questions convention while honoring it. And when necessary, he uses technology and science to achieve new tastes and textures that align with the goal of making the dining experience the best it can possibly be.
Some food critics and foodies apply the "molecular gastronomy" label to the cuisine of Chef Achatz. [His name is pronounced like "rackets", as Wired's Mark McClusky once pointed out.] There is a lot written on that, but we don't like the tag... it seems limiting, short sighted, and in many cases just plain wrong. Much of the time, low tech is good enough—why use a laser to cut something when a knife will do the job just fine? Unfortunately, the molecular gastronomy of today often has more to do with the showmanship than it does with the original goals of the movement. When Herve This coined the term way back in the '80s, he intended for it to be, essentially, the MythBusters of the kitchen, a criticial look at how and why things work.
What the Alinea kitchen does have in common with MG is the desire to question everything, try new techniques, and make the dining experience better all the time. Alinea has a staff of 60+ people committed to that ideal. And those basic goals are much the same as the best products and technologies that are featured on Gizmodo everyday... The difference being, you can eat these.
I hope to show a few examples of what Chef Achatz and the Alinea team of 25 chefs does everyday, how they question and create, and the technological innovators we work with regularly to achieve these goals. We may touch on a few broader topics of concern to everyone who eats. But mostly, we want our Taste Test posts to be exactly like the experience at Alinea—fun and delicious.
Nick and Grant (center two) in the Alinea kitchen:

Nick Kokonas co-founded Alinea with Grant Achatz in 2005, and works with the chef on Alinea-related projects, recruiting innovators to challenge and improve every aspect of the cooking and eating experience. A finance guy and web-oriented angel investor by trade, Kokonas got his start back in his teen years writing business software on an Apple II. You can grab the gorgeous Alinea cookbook here, or just visit Alinea's home page.
Taste Test is our weeklong tribute to the leaps that occur when technology meets cuisine, spanning everything from the historic breakthroughs that made food tastier and safer to the Earl-Grey-friendly replicators we impatiently await in the future.