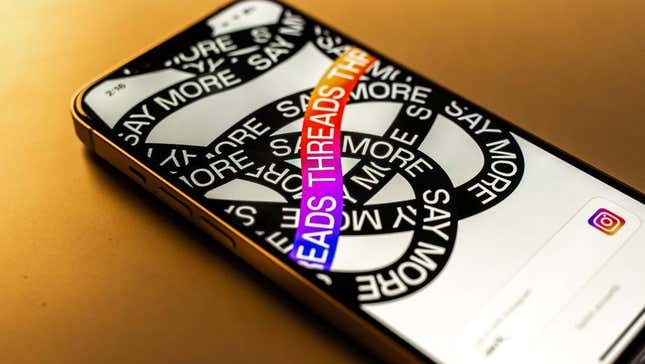 Threads is desperately trying to stay relevant by announcing a small update on Thursday to include a repost tab feature to the app. The newest tweaks come as the number of daily active users decreased by 80% since the app launched in July.
Threads Needs These Five Missing Features to Be a Twitter Killer
The update is reportedly based on the requests and feedback Meta has received from users and will allow users to view reposts in a dedicated tab on their profile page, Adam Mosseri, the head of Instagram, said in a Threads post. "We're rolling out a new Reposts tab on your profile so you can see all the threads you reposted in one place," Mosseri wrote. "We are also, based on your feedback, adding reposts to your Following Feed."
A Meta spokesperson said in an email to Gizmodo that the update has already been rolled out, but after viewing the updated app, it still does not appear to be available for me on iOS.
The Repost tab mimics Twitter's retweeting feature, even as Elon Musk threatened to sue Meta last month for allegedly stealing his company's "trade secrets" and "intellectual property." Musk's longtime attorney Alex Spiro sent Meta CEO Mark Zuckerberg a letter saying Meta engaged in "systematic, willful, and unlawful misappropriation of Twitter's trade secrets and other intellectual property."
He accused Zuckerberg of hiring former Twitter employees and assigning them to develop a "copycat" app. The letter further accused the former employees of illegally retaining "Twitter documents and electronic devices," although Spiro did not provide examples to support the claims.
Meta's repost update on the Threads app is just the most recent in a string of new features Threads has rolled out in recent weeks including a "Following" tab which allows users to see posts from people they follow in reverse-chronological order and a shift to allow people to sort their "Activity" feed by reposts, quotes, and follows. Threads also added the option for users to see their liked posts in an update earlier this month.
Zuckerberg said there are additional plans in motion to introduce a web-based version of the app in the coming weeks, although an official date has not been announced. "The community here is on the trajectory I expect to build a vibrant long-term app," he wrote in a Threads post. He added: "Lots of work ahead but excited about the team's pace of shipping. Search and web coming in the next few weeks."