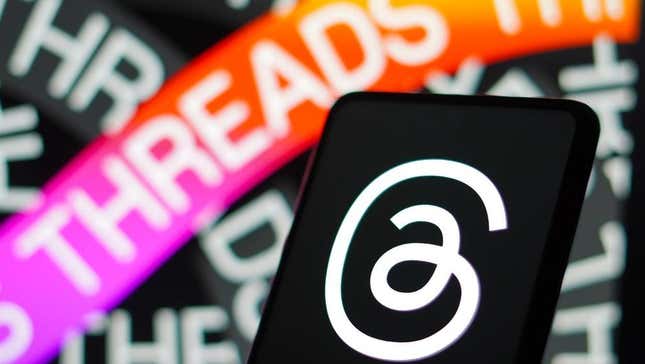 Meta is adding more features to Instagram Threads. Users will now be able to see their own liked posts if they update the app. The feature was beta tested on Android last week but rolled out for all users over the weekend.
Threads Needs These Five Missing Features to Be a Twitter Killer
Meta also tweaked Threads to allow users to upload higher-quality photos and videos, which can be accessed through the accounts tab found in settings. The option to upload higher-resolution images can be found under the Media Quality tab located in the user's accounts section.
A Meta spokesperson said in an email to Gizmodo that it is "also continuing to add new functionality to Threads, such as the ability to sort your following list by the date you followed them, as well as a way to see all the content you liked in one place." The spokesperson added that more updates are on the horizon but didn't specify what those were. Users can only view their own likes, not those of others.
Meta CEO Mark Zuckerberg hinted at additional features to come including a web version of the app in a Threads post on Saturday. "A good week for Threads," he said. "The community here is on the trajectory I expect to build a vibrant long-term app. Lots of work ahead but excited about the team's pace of shipping. Search and web coming in the next few weeks." He did not provide additional information about when users can expect the web version to launch.
The Threads updates come as users have become disenchanted with the Twitter lookalike, as Threads has lost more than 80% of its daily active users since launch. Within five days of its debut, Threads reported 100 million users signed up, but a report by Similarweb found that as of Aug. 1, daily active users had dropped from 49 million to just 9.6 million users.
Zuckerberg acknowledged the loss at a company town hall meeting on July 28, telling executives he realized the app was "not perfect," but said he is planning "retention-driving hooks" to bring users back, Reuters reported. "Obviously, if you have more than 100 million people sign up, ideally it would be awesome if all of them or even half of them stuck around," he said at the meeting, adding, "We're not there yet."
Correction, 8/9/2023, 8:40 a.m.: Threads users can only see their personal "liked" posts, not those of others.