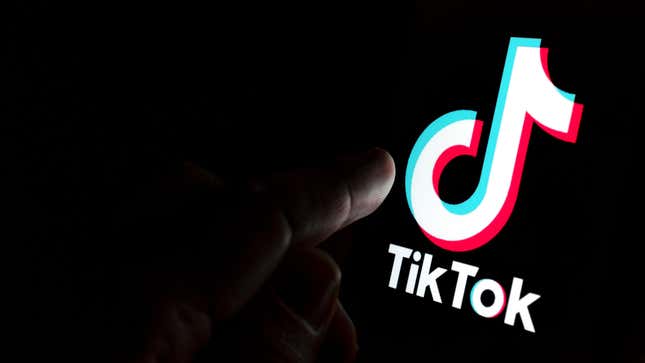 With a nationwide TikTok ban on the table, the app that has brought us so much comfort (and endless scrolling) is shifting its approach to content moderation. Today, TikTok unveiled new content moderation policies that vaguely target AI-generated content and climate misinformation ahead of CEO Shou Zi Chew's appearance in front of Congress later this week.

Will Banning TikTok Solve Privacy Issues? | Future Tech
TikTok announced the "refreshed" Community Guidelines this morning, which will take effect on the app on April 21. Notably, TikTok has now clamped down on deepfakes, stating that synthetic media that shows realistic scenes or contains the likeness of a real individual must carry a disclosure in the form of a sticker or caption. As The Verge points out, TikTok's previous stance on deepfake technology on the app was a little more than a slap on the wrist, with one single line in its content policy. The new rule is a little more comprehensive, but still relies on the user to be honest about their content.
"The world is changing," said Julie de Bailliencourt, TikTok's global head of product policy, as quoted by TechCrunch. "Our community is changing. We see new trends coming and going, and we think we need to regularly update these guidelines to meet the expectation of people who come on our service."
Updates to the Community Guidelines also include the company's continued attempts at reining in misinformation that runs rampant on the app, and singles out climate change as an issue. TikTok now no longer allows "climate change misinformation that undermines well-established scientific consensus, such as denying the existence of climate change or the factors that contribute to it," according to the new Community Guidelines. As a whole, TikTok also says that content that contains conspiracy theories, which would include climate change misinformation, will not be sent to the app's intoxicating and never-ending For You feed until it's reviewed by internal and third-party fact-checking.
Why Banning TikTok Won't Protect Our Privacy
Why Banning TikTok Won't Protect Our Privacy
TikTok CEO Shou Zi Chew recently revealed on TikTok of all places that the app has reached 150 million American monthly active users—which is just under half of the country's population. Chew also claimed that 5 million U.S. businesses are using TikTok to reach their customers, and asked viewers to leave comments on his post—which feels more like a battle cry—describing what they want elected officials to know as Chew gears up to appear before Congress later this week.

"Now this comes at a pivotal moment for us. Some politicians have started talking about banning TikTok," Chew appeals in his video as the Capitol Building looms in the distance. "Now this could take TikTok away from all 150 million of you."
Chew will be appearing in front of Congress on March 23 as discussions of a nationwide TikTok ban continue. South Dakota was the first state effort to ban TikTok from government devices back in November, an effort that eventually snowballed into a vague, Republican-led bill that could grant Biden the authority to ban TikTok. While the Biden administration has already banned TikTok from devices in the House of Representatives, it has also warned parent company ByteDance that it must sell TikTok or ready itself for a more comprehensive ban.