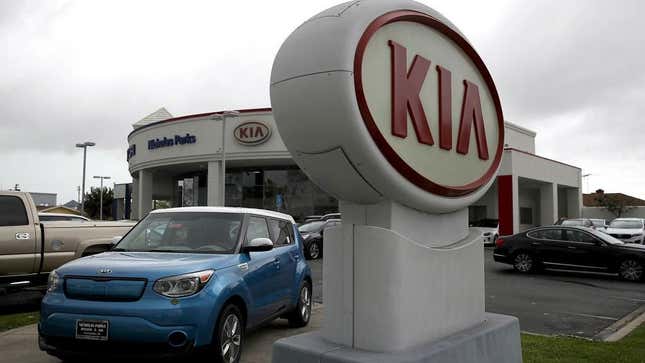 Hyundai and Kia are offering a free anti-theft update after a TikTok challenge went viral last summer. The challenge directed viewers on how to break into Hyundai and Kia vehicles using tools as simple as a USB cable.
In the aftermath of the 'Kia Challenge,' teens were directed on how to bypass a car's security system by a group who call themselves the Kia Boyz. The challenge has resulted in at least 14 car crashes and eight fatalities, according to a report by the National Highway Traffic Safety Administration (NHTSA).
The car companies are now providing a free upgrade to Kia and Hyundai vehicle owners to add a theft deterrent software to extend the car's alarm from 30 seconds to one minute and will require the driver to insert the key into the ignition to power up the engine. Each update will be accompanied by a window sticker that indicates the car is equipped with an anti-theft security system.
Randy Parker, CEO of Hyundai Motor America, said in a press release, "Hyundai is committed to ensuring the quality and integrity of our products through continuous improvement and is pleased to provide affected customers with an additional theft deterrent through this software upgrade." He added, "We have prioritized the upgrade's availability for owners and lessees of our highest-selling vehicles and those most targeted by thieves in order for dealers to service them first." 
Vehicle owners previously had to pay a minimum of $170 for a new security system upgrade, but the cost could amount to far more than that with installation and labor driving the price to upwards of $500. According to the NHTSA, 3.8 million Hyundai and 4.5 million Kia vehicles will be eligible for the software update in the U.S.
Kia and Hyundai owners will be entitled to the upgrade beginning this week but it will only initially apply to certain makes and models. Vehicles eligible for the update include the 2017-2020 Hyundai Elantra, the 2015-2019 Sonata, and the 2020-2021 Venue.
The companies will advance through a slow rollout of the free upgrade and owners of Kona, Palisade, and Santa Fe models will become eligible for the security system update beginning in June 2023. 
Hyundai will notify eligible vehicle owners through the mail, email, and phone calls, and those who want to check when their car is able to get the upgrade can see the status by entering their VIN number on Hyundai's website.