If you've been to the library recently, you might have noticed something strange. New e-books from Tor Publishing are nowhere to be found. Ball Lightning by Cixin Liu. Cathy Clamp's newest novel in the Luna Lake series. The Black God's Drums by P. Djèlí Clark. All missing. That's because Tor is refusing to let libraries have them.

Last month, Tor (through its parent company, Macmillan) announced it would be issuing a four-month embargo on all e-books going to libraries, starting with its July 2018 releases. The publisher says it's to test the impact library e-books have on retail sales, adding that it thinks they hurt the publisher's bottom line. That means library users can still check out printed copies, but won't have digital access to Tor's latest science fiction and fantasy novels until one-third of the year has gone by. The company didn't give any indication of how long the embargo would continue.
Several library organizations and advocacy groups, including the American Library Association and ReadersFirst, have come out against Tor's embargo. In a phone interview with io9, ALA president Loida Garcia Febo expressed her concerns that it could mean more trouble for libraries and their relationships with publishers, taking into account how hard they had to fight to get e-book access in the first place. She also said how unfortunate it is that the embargo is targeting sci-fi and fantasy readers, given how dedicated and passionate they are about the written word.
"This move, or action, that Tor took impacts some of our most avid readers, and those are the science fiction fans. As a science fiction fan myself—I attend book clubs, there's a science fiction book club where I live—I can say that I don't know why the move is coming from Tor," Febo said. "But what I can say is that it impacts some of our most avid readers, a group that's rapidly increasing."
io9 reached out to Tor and Macmillan for comment, but did not hear back as of publishing. In its initial statement, Macmillan said the embargo is part of an open-ended "test period." It claimed an analysis from the company shows library e-books are "having a direct and adverse impact on retail eBook sales," though it didn't elaborate on the company's research or methodology.
G/O Media may get a commission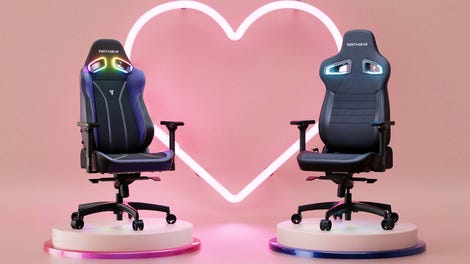 Up to $150 off
Vertagear Gaming Chairs
Macmillan also mentioned its pending work with research study the Panorama Project. Initially funded by Rakuten OverDrive Inc.—a company that deals in e-books and library access—the Panorama Project is designed to study the long-term effects of libraries on things like author recognition, branding, and yes, book sales. But according to project lead Cliff Guren, Tor's four-month embargo has nothing to do with the Panorama Project. Guren wouldn't comment on Tor's actions or whether they could conflict with Panorama's research.
While Tor's embargo has been criticized by Febo and others, the Panorama Project has their full support. The Panorama Project is a collaborative effort between libraries, book publishers, and other groups to study the relationship between libraries and publishers. Panorama is in the very early stages, and it's not clear what the end results are going to be. Febo is confident that the project will show, as others have—like these findings from Publishers Weekly—that libraries help book and e-book sales. When asked what she would do if the study showed libraries actually hurt sales, as Macmillan has claimed, she shrugged it off, saying she doesn't think that's going to happen.
Guren is more focused on the data itself, adding they "are open to the results, whatever they may end up being." We asked whether the information the Panorama Project gathers—if it shows that libraries hurt book sales—could be used by publishers like Tor as justification to further reduce access. He didn't rule it out, but emphasized that it's hard to say at this point what the research is going to find.
"We understand that we may come across results that support the role that libraries currently play, and some that raise some questions about library lending," Guren said. "That said, it's important to have the facts in hand in order to assess the impact of library lending. And right now, there's a lot of discussion on the impact of libraries, but there aren't enough facts available to inform those discussions."
Of course, Tor isn't waiting for the results of the Panorama Project's studies to make their first big move, and there are concerns there could be bigger consequences. Febo, for instance, is worried that the embargo could motivate other publishers to hold their new releases too, returning them all to what she called the "library e-book war," or that years-long period where libraries had to fight to increase e-book access. She said the ALA is planning to take action this fall in response to Tor's embargo through public advocacy and possibly a grassroots campaign. Library supporters likely hope it doesn't have to come to that, and that Tor instead ends its test project, so sci-fi and fantasy readers of all ages and economic brackets can continue to have access to the genre's fascinating worlds.