We wanted to love the original Thrive tablet with its many full-sized ports, but oh man was it chunky. The Thrive 7-Inch is almost exactly the same, but everything is smaller. It's still chunky, but it's not too much anymore.
The original Thrive's biggest faults were that it was big and awkward and the resolution on its screen was not too hot. Believe it or not, they actually did a pretty good job of correcting both of these issues. While it's still on the thick side (.47 inches to the Galaxy Tab 8.9's .34 inches), its smaller, 7-inch frame makes it very palmable. Suddenly that texturized grippiness on the back makes sense. It's actually pretty comfortable to hold. At .88 pounds it's even lighter than the Galaxy Tab 8.9's featherweight .98 pounds. As far as resolution goes, while the screen is 3.1 inches smaller than the original, they crammed in the same number of pixels. 1280x800 resolution on a 7-inch screen looks really good. HD video actually looked HD.
At the same time, it still retains much of the original Thrive's port-tastic capabilities, but miniaturized. The Thrive 7-Inch has micro USB, micro HDMI, and micro SD card ports. I'm a huge fan of this, as I can't stand having to use adapters do such basic things (I'm looking at you, Samsung). It also has a 30-pin connector and will have all the docks and keyboards you could (but almost definitely won't) use. No custom skins here, which I like, and they even seem to have loaded it with less of their own software this time around. They did include their media app, but that's actually a good thing, because it works with DLNA so you can stream video/music/photos to any of your DLNA devices (TVs, stereos, etc).
G/O Media may get a commission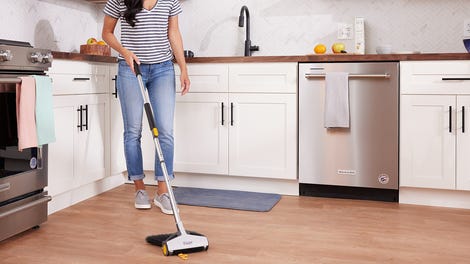 BOGO 50% Off
Flippr - BOGO 50% Off
It's not all sunshine and rainbows, though. While its infinitely more portable than its older brother, it still feels just a bit too thick. It'll probably fit in your jacket pocket, but it'll be a bit tight. I imagine that's the cost of having all those ports, and if you love them then it might be worth it to you. It also feels very plastic and I worry that a drop might crack the thing. The screen isn't Gorilla Glass either, and while they assured me that it's a super-hard proprietary glass, well, it remains to be tested (at least by me). Also, watching videos in landscape looks sooo good, so why on earth would you put both speakers on one side? It may technically be stereo, but my left ear was getting all the love. Bad move. At least they cut little resonating holes in the nightstand dock to accomodate this weird design misstep.
This pup will be running Android 3.2 at launch (though I was told it will be upgradable to 4.0 when it drops), and is due to hit the shelves in early December. It's got the same 1GHz dual-core Tegra 2 and 1GB of RAM, a rear 5MP camera (now with flash), and a 2MP on the front. No word on pricing yet, but I was told it would be "under $400." This is actually a pretty nice tablet, but price-point is going to be key here, as it isn't nearly as svelte and contemporary-looking as its competition from Samsung and Apple. If they can get the price down nice and low, though, I can see Toshiba selling a good chunk of these.
Music credit: Kevin MacLeod/Incomptech
---
You can keep up with Brent Rose, the author of this post, on Google+ or Twitter.