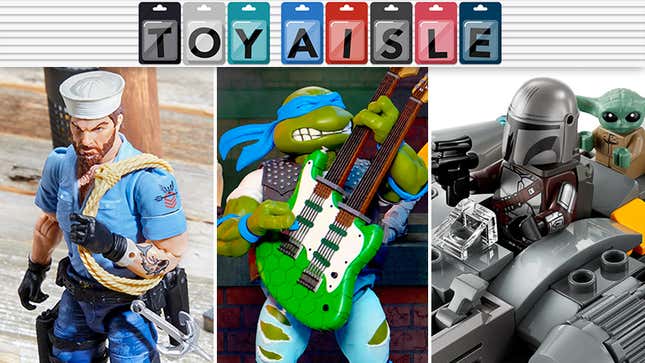 Welcome back to Toy Aisle, io9's weekly look back at the best toy news and releases you may have missed. This week Lego's got a pair of ships to welcome back the return of Star Wars: The Mandalorian, Super 7 brings a hero in a half shell ready to rock, and Hasbro finally adds fan-favorites Shipwreck and Polly to its G.I. Joe Classified Series lineup. Check it out!
A Transformer Is Headed to the Moon
---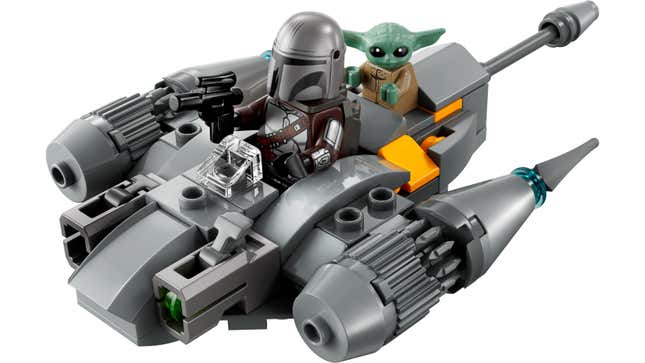 Lego Star Wars: The Mandalorian N-1 Starfighter Microfighter
We've already raised serious concerns over the practicality of The Mandalorian's replacement for the Razor Crest. But as impractical as an N-1 Starfighter might be for hauling bounties around the galaxy, it remains a beautifully designed ship—even when stripped bare. Lego already has a detailed model of Mando's N-1 available for $60, but is soon introducing the ship to its scaled-down microfighter line. This $16 set comes together from just 88 pieces, and while it throws proper proportions out the window, it does come with minifigure versions of Mando and Grogu. The Mandalorian N-1 Starfighter Microfighter is available for pre-order now for $16, but won't ship until August 1.
---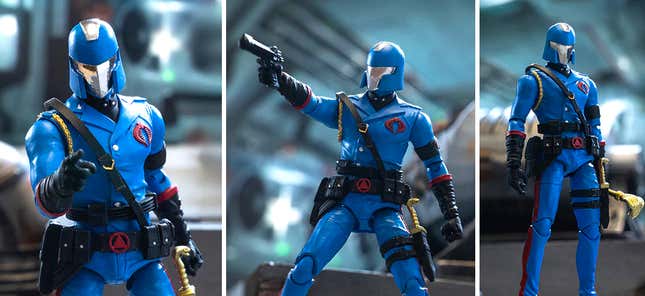 Hiya Toys Exquisite Mini Series G.I. Joe Cobra Commander Figure
Although often a laughing stock in the classic cartoon for being constantly foiled by G.I. Joe's forces, Cobra Commander deserves a lot more credit than he got for somehow managing to find the funds to rebuild his evil organization again and again and again. From Hiya Toys comes a new four-inch version of Cobra Commander in the company's Exquisite Mini series that manages to pack more articulation and detailing into a figure only slightly taller than Hasbro's 3-3/4 G.I. Joe line from the '80s. And he's just $20, available for pre-order now.
---

Super7 Teenage Mutant Ninja Turtles Ultimates! Wave 10
You wouldn't think it possible that the supporting cast of a comic book and popular cartoon about teenage mutant ninja turtles would somehow be wilder than the main characters, but that's exactly what TMNT brought, and what has helped keep it popular for decades. Super7 has introduced Wave 10 of its TMNT Ultimates! figures which includes the Rat King, Casey Jones, Ninja April O'Neil, and Classic Rocker Leo. The double-necked guitar accessory that turns into a pair of guitar neck swords might single-handedly justify adding Leo to your collection, with an honorable mention for April's "microchuks," a pair of nunchucks featuring a news reporter's microphone on each end. All four are available for pre-order now for $55 each, with shipping expected sometime late in 2023.
---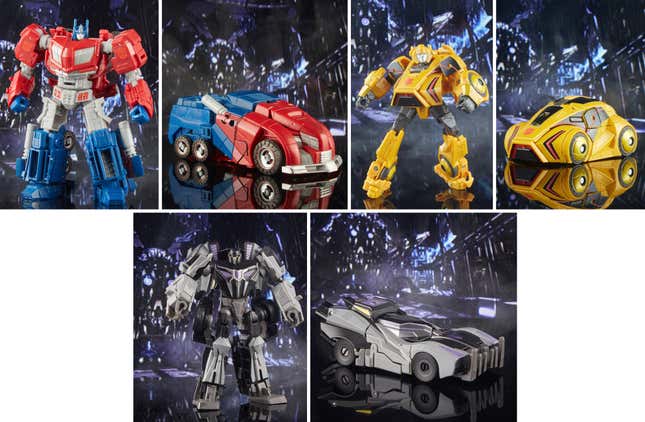 Hasbro Transformers Studio Series Gamer Edition Voyager Optimus Prime, Deluxe Bumblebee, and Deluxe Barricade
If you've ever looked at Optimus Prime and wondered how a bot so scrawny came to lead the Autobots, Hasbro's got a seriously swole version enroute. Based on the Transformers' appearances in the Transformers: War for Cybertron video game, the Studio Series Voyager 03 Gamer Edition Optimus Prime drops in May for $35 with an updated design that transforms in 22 steps, and will be joined by the Studio Series Deluxe 01 Gamer Edition Bumblebee, and Studio Series Deluxe 02 Gamer Edition Barricade, which go from bot to vehicle modes in 22 and 15 steps, respectively, but will sell for $24 each instead.
---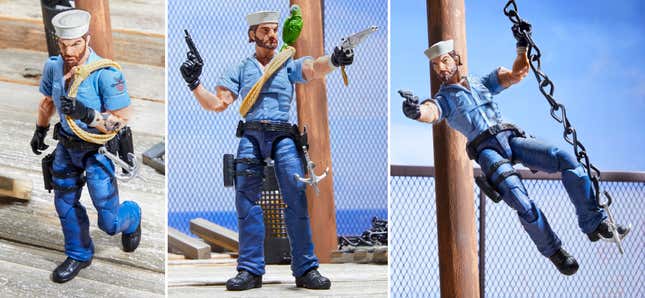 Hasbro G.I. Joe Classified Series Shipwreck
It's not always apparent why, but some characters just click with kids. Such was the case with G.I. Joe's Shipwreck. He didn't fly a fancy plane, he didn't carry around a giant gun, and he lacked the quiet cool of characters like Snake Eyes. He was a loudmouth sailor with both a parrot and a chip on his shoulder, and that's all it took for him to become a standout character on the Joe team. Hasbro is finally introducing Shipwreck, whose real name, believe it or not, is Hector X. Delgado, to its G.I. Joe Classified Series, giving the sailor a six-inch figure makeover that includes Polly, his parrot, which is available for pre-order now for $25, with shipping expected on September 1.
---

Lego Star Wars The Mandalorian Pirate Snub Fighter
Can you really have a new season of the The Mandalorian without a handful of new Lego sets to go along with it? Of course not. So in addition to a micro version of Mando's ship, we're also getting a 285-piece version of the Pirate Snub Fighter that debuted in the first episode. To be honest, the ship's design looks more at home in the Star Trek universe than the Star Wars, but if a tiny single-stud Lego thermodetonator piece isn't enough to sell you on the set, it includes two completely new minifigs: the ship's pilot, and Vane with a sword in hand. It's available for pre-order through Lego's website now for $35, but won't ship out until May 1.
---
Want more io9 news? Check out when to expect the latest Marvel, Star Wars, and Star Trek releases, what's next for the DC Universe on film and TV, and everything you need to know about the future of Doctor Who.