Here they are, 10 toys and games painstakingly selected for coolness and/or inoffensiveness (plus two of the worst ideas), running the gamut in age range and price. Pick through, and you'll find something nice for the brainy little snot.
If you hate the gallery format as much as the Grinch hated Christmas, click here.
Battling Helicopters: There's no better way to learn the mysteries of heavier-than-air flight than to spin up a few air hogs and have them shoot each other out of the sky—in your living room. Seriously, these things may be expensive but they're fun for everybody who doesn't catch one in the eye, and they're surprisingly durable. They come out of China under a few different brand names, so root around, and see if you can find a better deal. $170; Ages 8 and up [Amazon]
G/O Media may get a commission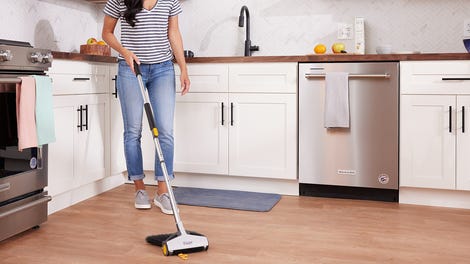 BOGO 50% Off
Flippr - BOGO 50% Off
Crayola Crayon Maker: Awarded as a top "green" toy by the Oppenheim Toy Portfolio, Crayola's crayon melter works a little like an EZ Bake oven, only with better results. The kid throws in used crayons, and out come shiny whole new ones, sometimes in new never-before-seen colors. And the best part—the new edition apparently doesn't pop open while the crayon wax is still molten. Safety first! $30; Ages 8 and up [Review; Amazon]
Rabbids Go Home: If you're tired of Mario and want to wipe that stupid mustache off his face, the gift to get kids is this crazy Wii title from Ubisoft, where the only guy with facial hair is Santa Claus, and he gets yelled at until he's... stripped down to his underpants... for some reason. OK, so it doesn't all make sense, but damnit if it's not a change of pace, and a way to keep the little troublemakers busy without learning to shoot, steal cars and price shop for hookers. Reviewed by kid-friendly Stephen Totilo over at Kotaku. $50; Rated E—ages 10 and up [Review; GameStop]
Nano Hexbugs: Last year, Hexbugs were all the rage, so it just makes sense that this year is all about Nano Hexbugs. As your finely tuned Jobsian brain already guessed, they're smaller. And they're cheaper. And they wiggle and jiggle and move fast as hell, and flip over and right themselves, and it's just bunches of fun for all ages (except for babies, who could choke on them). Shown here much larger than actual size. $10; Ages 3 and up [Hexbug]
Mosaic Stone Kit: What better thing to get a kid than a bag of cement mix and some broken glass? Just add water, colorful shards, and the feet of anybody you want to sleep with the fishes, and presto, you got art/revenge. Seriously, mosaics are good ways to teach geometry, history, spatial reasoning and chemistry all at the same time. Oh, and the website assures buyers that the glass "gems" are smooth. $16; Ages 7 and up [Constructive Playthings]
Leapfrog Musical Table: As a real live parent who had to put up with this thing nonstop for a straight six months, I can tell you that a) my kid never got sick of it, b) it was the least annoying of her chirping, chattering musical doodads, and c) there's a reason she could sing the ABC's before she could say anything else that resembled English. (She was fluent in Huttese, I am convinced, but that's another story.) The only bad thing about this classic is that so many new parents have it already, you need to ask before you buy. If they do have it, go with Leapfrog's My Pal Scout. $34 or find it used; Ages 6-18 months [Amazon]
Duck Duck Moose iPhone Apps: Again, take it from a parent, these musical baby games—based on the classic tunes "Wheels on the Bus," "Old McDonald" and "Itsy Bitsy Spider"—are colorful, interactive, distracting and not annoying. OK, so the opera singer occasionally wears down your patience, but that's why there are a bunch of different downloadable music options, and even vocals done in different languages. The visuals are cartoony and funny, with aliens abducting cows, pigs painting masterpieces and spiders like tripping acid and building webs on rainbows or something. My kid asks for each of them by name. Buy them all, and keep a look out for more. $1-$2; Ages 12 months and up [iTunes Link]
Lego Star Wars: Of all the shameless marketing crossovers in history, this is perhaps the most enduring and ultimately legitimate. I say this with a note of jealousy, as a guy (like Jesus) who cherished his non-movie-themed gray castle and rocket moon base. Yes, buy some kid a Vader TIE Fighter, if only so you can have the chance to crack it open and "help" build it. Ranges widely; kit shown above $33; Ages 8 and up [Toys R Us]
Settlers of Catan: Sure, the game has become a meme, but damn it if it didn't earn that status as the most engrossing yet welcoming board game since Monopoly. And there's nothing sexual or violent, unless you count a few hundred sheep and a handful of soldiers. Sure there are video game versions of it, but the flesh-and-blood edition lets you watch the board get torn down and remade over and over, leveling the playing field again and again. But when the kids finally learn to beat your ass, you definitely should sneak online to polish up your settlement-to-city conversion skills. $34; Ages 10 and up [Toys R Us]
DON'T BUY Elmo Robots: In the past, we were on the fence, but having lived with too many Fisher-Price Sesame Street toys, I can say that they're just not great. They're hard cold plastic things, not at all plush and huggable, and they're noisy—both because of their programmed sounds and because of their mechanical wheezing. If you have to go with with something robotic and Elmo-themed (and I do understand that pull), go with Elmo Tickle Hands. They don't make this "least annoying" list, because you have to keep playing the 3-minute DVD over and over again for the full effect, but they're cheaper ($22 vs $54) and are more entertaining for the youngins.
DON'T BUY Zhu Zhu Hamsters: Look, these things are the Cabbage Patch Tickle Me Furby of the year. You couldn't find them at a sane price if you tried. But since some reviewers have labeled them as potentially "annoying for adults," you can just skip the hunt. And while we're at it, don't buy "Screature" either. Do I have to explain why?
A Book: We usually reserve one spot for a magical fantasy gift, but kids these days have everything you ever had and one hell of a lot more. I don't want to sound like Captain OG Readmore or anything, but I have fond memories of reading with my dad, and now my kid already begs to sit down and read with me. (She can't read yet, but why spoil it with the truth?) Buy a book—track down one of your childhood favorites—out-of-print or in a new edition—on Amazon or Alibris, and then show it off to the kid you're giving it to. I am not trying to be sentimental, I just wanted to make sure you knew this was an option, one that doesn't make kids' hands sticky or dirty, doesn't emit loud noises or unexpected exclamations, and doesn't hum or vibrate mysteriously when you're trying to watch TV late at night. Any price; All ages [Wherever Books Are Sold]
This list is far from comprehensive, so don't forget to hit comments and recommend the least annoying toys you can think of, too—include pics and pricing if possible.
All Giz Wants is our annual round-up of favorite gift ideas, including amazing attainable objects and a few far-out fantasies. We'll be popping guides catered to different interests several times per day for some time, so keep looking it over.