Uber founder Travis Kalanick, who was forced out of his CEO role last year amid widening scandals about its toxic work culture, legal troubles, and a video of him screaming at a bankrupt driver, seems an awful lot like he's finally admitting defeat in the unending slew of backroom drama that plagued the company in his wake.

On Wednesday, Kalanick posted to Twitter announcing the formation of 10100, an investment fund that will advance his "passions, investments, ideas, and big bets." Said fund will include "large-scale job creation"—there's that buzzword!—in the form of "real estate, ecommerce, and emerging innovation in China and India," Kalanick wrote. He added that the fund will also pursue non-profit efforts in education and "the future of cities."
Over the past few months I've started thinking about what's next. I've began making investments, joining boards, working with entrepreneurs and non-profits. Today I'm announcing the creation of a fund called 10100 (pronounced "ten-one-hundred"), home to my passions, investments, ideas and big bets. It will be overseeing my for-profit investments as well as my non-profit work.

The overarching theme will be about large-scale job creation, with investments in real estate, e-commerce, and emerging innovation in China and India. Our non-profit efforts will initially focus on education and the future of cities.

For anyone who wants to get to work, email me at travis@10100fund.com.
Per the L.A. Times, a spokesman for Kalanick declined to provide more detail about the fund or what kind of jobs he was hoping to create—though to the extent that Uber was known for job creation, it largely involved shifting many of the operational costs of the business to legions of contractors responsible for their own vehicle maintenance, fuel, and insurance. As for the future of cities thing, Uber and other rideshare companies' fleets of cars have been blamed for creating more traffic problems than they solve, and the company's vision has historically been more about guaranteeing that Uber and its Silicon Valley brethren keep an iron grip on the future of transportation.

As to why Kalanick may have decided to forge ahead with something new instead of focusing on Uber, the Verge noted that with the recent resolution of certain power struggles on the company's board, the chances of any eventual return to power for him there have faded further:
However, in a recent deal with Japanese telecom SoftBank, Uber's power structure shifted, diminishing Kalanick's control of the Uber board by diluting his shares and giving SoftBank control of two board seat appointments alongside a change to the voting power of shareholders.
G/O Media may get a commission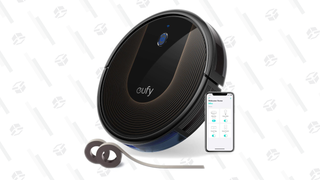 48% Off
Eufy BoostIQ RoboVac
As the Guardian reported, though, sales of Uber shares turned Kalanick from an on-paper billionaire into a real one, so running an investment fund seems like a natural next step for his career.
That does not mean Kalanick's influence on Uber is a memory, however. Under new CEO Dara Khosrowshahi, the company is still facing numerous crises that stem from Kalanick's tenure like all those criminal investigations, including a Department of Justice inquiry reported to be active as recently as a few months ago.
As Bloomberg reported, Uber's history of playing fast and loose with the law has also soured its relationships with local governments. One example is Pittsburgh, Pennsylvania, where Mayor Bill Peduto told the New York Times an autonomous vehicle testing partnership soured as it became clear that "When it came to what Uber and what Travis Kalanick wanted, Pittsburgh delivered. But when it came to our vision of how this industry could enhance people, planet and place, that message fell on deaf ears."

In any case, 10100 will be an opportunity for Kalanick to work his special brand of magic with a new generation of startups, which surely means his name will be popping up in news articles for years to come.
Gizmodo reached out to Kalanick for more information about what kind of projects he plans to pursue at 10100, and we'll update this post if we hear back.