Let's imagine you're the Trump administration's secretary of education, Betsy DeVos. Sure, people don't like you. They really don't like you. But you've got an opportunity to hire an official who will stand up for working class Americans and crack down on for-profit schools that exploit their students. What would you do?
Well, to be blunt, the DeVos-led Department of Education reportedly did something stupid. Politico reports that the Julian Schmoke, a former DeVry University executive, just got hired to oversee the Student Aid Enforcement Unit, an office created after DeVry University paid a $100 million settlement to the Federal Trade Commission for false advertising. In other words, the new student protection bureau of the federal government just hired a guy who worked at the same company whose malicious practices inspired the creation of that new student protection bureau. It's like hiring one of Al Capone's henchman to run the FBI!
That might be an exaggeration. Schmoke worked at DeVry from 2007 until 2012, when he left his post as the university's Associate Program Dean for the College of Engineering and Information Sciences. We don't know if he was involved in the malicious practices that led to DeVry's historically huge FTC settlement. But you get the point: the optics of this hire are very bad. They could have been less bad if the Department of Education had hired, say, a former ITT Tech dean. ITT Tech definitely did a lot of really bad stuff, but the now defunct for-profit school isn't necessarily listed as the precise inspiration for the creation of the department's new enforcement unit. DeVry is.
Still, giving DeVos and company the benefit of the doubt, maybe hiring a former DeVry dean is one of those Catch Me If You Can moves. Like, if you want to catch the crooks who are forging checks, you might as well hire the world's best check-forger, right? Maybe Schmoke is one of those guys who knows how the dark world of for-profit colleges works and will bring all of his secret tricks to the table when it comes time to crack down. Again, we don't know.
G/O Media may get a commission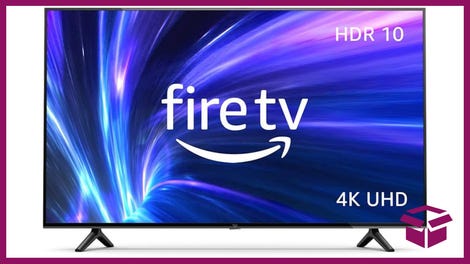 42% Off
Amazon Fire TV 50" 4K Smart TV
If reports of his hire prove true, Schmoke will leave his current post as a community college administrator to the hot seat at the Department of Education. We don't yet know how he will pursue big bad for-profit schools like the one he used to work for. We also don't know what Betsy DeVos will do to support him. We do know that DeVry University inspired the creation of a new unit within the Department of Education, and now, reportedly, that unit will be run by a former DeVry University executive. The Trump administration's unusual actions are no longer shocking. But that doesn't make them any less troubling.