President Trump was scheduled to sign an executive order on cybersecurity today, following a "listening session" with cybersecurity experts. That signing was abruptly canceled, with no reason given.

The meeting with experts went ahead as planned. According to a White House email, the attendees included many of Trumps' top advisers and appointees, as well as Rudy Giuliani, Trump's cybersecurity adviser, and two people from the National Security Council's cybersecurity policy team whose occupations were strangely listed only as "#Cyber." But after the meeting and the brief appearance before the press, Trump simply left the room, saying he would see reporters again tonight for his Supreme Court pick announcement.
Last week, a draft of the executive order on cybersecurity was leaked to the Washington Post. The order would have mandated reviews in four areas: US cybersecurity capabilities and vulnerabilities; possible incentives for the private sector to improve cybersecurity infrastructure; and the "identities, capabilities and vulnerabilities" of US cyber adversaries.
Clearly the White House expected the signing to happen today as late as this morning, when officials gave a briefing to reporters about the order. Politico's Eric Geller reported from that briefing that some of the ordered reviews, including the language on adversaries, seemed to have been removed from the latest draft.
G/O Media may get a commission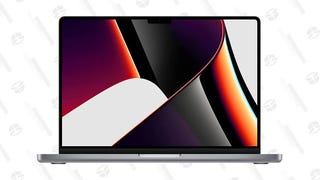 Save $300
2021 14" 1TB MacBook Pro
If this is the case, why did White House change its mind on ordering a review of cyber adversaries? Given that the intelligence community has repeatedly concluded that "Russian president Vladimir Putin ordered an influence campaign in 2016 aimed at the US presidential election," which likely included hacking the DNC emails, one would imagine the US president would be interested in a review of adversaries with the capabilities to carry out such campaigns.
It's also worth noting that under the original draft order obtained by The Washington Post, General Mike Flynn would be a co-chair of the investigation into cyber adversaries. The Wall Street Journal reported earlier this month that Flynn has been investigated by US counterintelligence agents for his contacts with Russian officials, specifically for a series of calls with the Russian ambassador to the US on the day that President Obama announced new sanctions against Russia.
As with other executive orders Trump has signed, the relevant agencies may be being shut out from the draft process. The Guardian reported today that the Department of Homeland Security is "yet to review" a finalized version of the order.
Why was the order postponed? It's unclear. For all we know it'll be signed tomorrow.