The Old Ballgame
by Brian L. Clark
I remember when I was a kid, my old man and I would sit on the back porch in Central Pennsylvania and listen to AM radio broadcasts of Phillies games. I won't tell you how long ago that was, but the fact we weren't able to watch them on cable TV should give you some idea. In any case, I've been doing a fair amount of bitching lately, so I thought I'd write this week about something I actually enjoy. It's MLB.tv, a subscription service that allows baseball fans to watch video streams of Major League games around the country. I've been enjoying the service since the site launched in 2003.
Essentially, MLB.tv allows you to pay $79.95 to watch virtually any game you want, so long as there's no conflict with a local or network broadcast. I bring this up because this week, I broke out that previously useless doorstop—the digital entertainment device that runs Windows Media Center—and used it to receive the stream on my TV. Not my brand new HDTV (which I still don't have, btw), but rather, on my 27-inch Toshiba CRT.
As I sat there watching Friday night's game, it occurred to me this was the real potential of the merger between PCs and entertainment devices. With the emergence of sites like YouTube, and networks like ABC and Comedy Central making shows or show segments available online, the ability to actually watch what you want to watch—whether it's on cable or the Internet—is the real killer app. To put it succinctly, I'd no longer be at the mercy of my cable TV service.
When I can receive all the content I want (including customized news) via the Internet and watch it on my TV, my cable subscription becomes redundant. And that massive investment in IPTV the phone companies are making these days? Don't think they're not chewing their nails wondering if someone like YouTube could become the first "customized TV network" to broadcast solely via the Internet. Given the networks' push to get online—shows like "Lost" and clips from "My Name Is Earl" are now available at ABC.com and NBC.com—I'd say they're thinking about it, too. Meanwhile, the Tiffany Network started Innertube, which it calls an online entertainment portal that offers both network and exclusive, Web-only video releases.
G/O Media may get a commission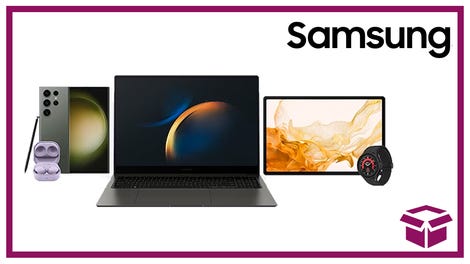 24 hour deals
Discover Samsung - Daily Deal
Then there's iTunes. I wouldn't be the least bit surprised to see Apple work with the folks at TiVo to create a subscription service that allows me to record any show I want, either via broadcast or the Internet, to watch any time I please. I rather like the idea of having my own personalized network to consolidate all of the content my cable company can't offer. I can even see the video iPod as the key to unlock video that only plays when the device is seated in a Mac Mini's built-in dock.
Until then, however, I will continue to enjoy services like MLB.tv with my oldest son, watching games on the TV in my basement or catching them on my laptop, sitting on our back porch in New Jersey.
Brian L. Clark is a reporter and consultant on all things digital, runs the The Tech Enthusiast's Network, and writes for Money, Men's Health, and Laptop. Read more Tuning Fork here.