Whither Porn?
By Brian L. Clark
God bless the porn industry. Yeah, I said it, but before some of you get your panties in a bunch, know this: If you want a technology driver, you need only look to the porn industry to see where video is headed.
Porn just seems to gravitate to new technology. It was the porn industry that helped decide the winner in the VHS/Beta wars 25 years ago. The porn industry helped make CD-ROMs ubiquitous and created the basis for online payment systems so prevalent today. And as a big-time electronics company executive told me a couple months ago, it will be the porn industry that decides the ultimate victor in the Blu-Ray/HD-DVD wars. So it's not surprising the industry decided to pioneer in the area of digital downloads.


Today (May 22, 2006) Vivid Entertainment is supposed to begin offering $19.95 downloads that can be burned onto a DVD. "Leave it to the porn industry once again to take the lead on this stuff," Michael Greeson, founder of Plano, TX research firm, The Diffusion Group, told the AP. Not surprisingly, he added, "The rest of Hollywood stands back and lets the pornography industry work out all the bugs." That should be small comfort to folks who already believe Hollywood is way behind the curve when it comes to digital downloads. But hey, at least they have an example.
G/O Media may get a commission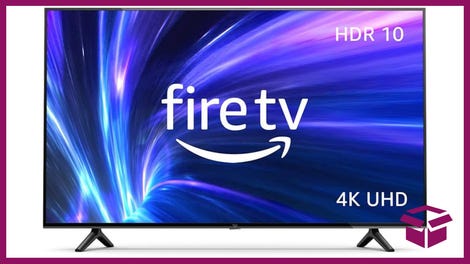 42% Off
Amazon Fire TV 50" 4K Smart TV
The truth is, this gets to the heart of the longstanding distrust between Hollywood and technology companies. The high-definition, big-screen TV phenomenon is wreaking havoc with Hollywood these days; more people are waiting for movies to be released as DVDs—both legal and illegal—so they can watch them on their giant televisions. The film industry tried to address that issue with the semi-simultaneous release of Steven Soderbergh's "Bubble," which hit theaters on January 27th and came out as a DVD four days later. Clearly, they know the direction the industry is headed. Now if they'd just take a page out of the music industry's book by providing a download service that offers first-run flicks. Even if it doesn't allow me to burn DVDs, I'd still pay $25 to download and watch a first-run movie. After all, once I factor in a babysitter and the cost of the crappy food in the theater, it's going to cost me $100, easy.
To be fair the studios do have to deal with the fact that they now look to make more money from DVDs than they do from ticket sales. So it's unlikely a retail operation like Wal-Mart or Blockbuster would look too kindly on being cut out of the food chain. Then again, if Hollywood was really smart, it might stop actually fighting technology and work with those retailers to develop a secure method for digital distribution that keeps pirates at bay. After all, who really wants to trudge to the store to buy or rent a DVD when all they have to do is download a film and watch it on their TV?
Some entertainment companies actually do get it. Revelations Entertainment, for example, is working with Intel to help bring the latter's vision of digital entertainment to reality. The task, says Morgan Freeman, one of Revelations' principles, is "to make film easier to buy than to pirate."
For that reason, I'm rooting for the porn industry. After all, with a nod to "Avenue Q" (hilarious, btw, if you haven't seen it), the Internet is perfect for porn.
Brian L. Clark is a writer and consultant on all things digital, runs the The Tech Enthusiast's Network, and writes for Inc., Men's Health, and Laptop. Read more Tuning Fork here.