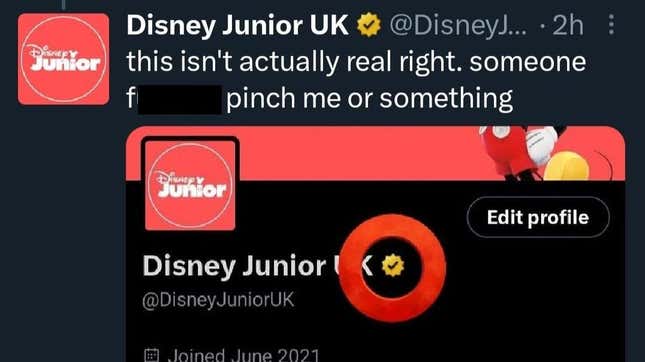 Twitter owner Elon Musk has tried foisting checkmarks upon celebrity accounts in a bid to popularize his paid-for verification scheme. In this way, Musk and Twitter may have been going a little too fast with its push for Twitter Blue subscriptions, and it may have pissed off the indomitable House of Mouse in the process.
Twitter Verification is a Hot Mess
Over the weekend, Twitter offered a gold checkmark to the account titled "Disney Junior UK." Other Disney-brand accounts like the regular "Disney Junior" and "Disney" accounts also got their golds. The only problem is, @DisneyJuniorUK wasn't affiliated with Disney at all. The Disney Junior UK network had actually ended its run back in 2020, shutting down its Twitter account after the fact. The gold checkmark is supposed to represent "an official business account."
The account quickly took advantage of the situation by posting "no fucking way" and in a thread adding "this isn't actual real right. Someone fucking pinch me or something." The account also promoted that shows like South Park would be coming to Disney Junior "THIS May!" which truly would have spiced up the platform's current lineup of Mickey Mouse Funhouse and Chip N Dale's Nutty Tales. According to Variety, the Disney Junior UK handle was suspended after reporters contacted Disney about the fake account.
The account also posted a poll asking if it should "deactivate the disney junior uk account for a while so I don't get irked by the disney hitmen" and "I'm not even kidding when I say that Disney might actually fuck my whole life up."
As of Monday morning ET the account has been suspended. Before Twitter could take the account down, the pinned tweet on the page reportedly read "#FuckThatN*****Elon, #KasherQuon and #MeowskullFeetFreaks." As you can imagine, the N-word was uncensored on the actual page, and yes, it's the word you think it is.
It's unclear why Twitter gave this account a gold checkmark, especially since it never even had a legacy verified status. Over the weekend, a few third-party developers created an open-source Chrome extension allowing users to see the legacy verification checkmarks on older accounts. One of those developers, analyst Oliver Alexander, posted a tweet that seemed to confirm the Disney Junior UK account had never held a legacy checkmark.
The Walt Disney Company declined to offer a statement on the verified fake Disney account. The company became aware of the account early on Monday, and reached out to Twitter which took down the account by 11:30 a.m. local time.
When asked for comment on the rogue gold checkmark, Twitter's press office told Gizmodo "💩."

Twitter had been previously demanding that major advertisers pay for Twitter Blue, though companies who already spent $1,000 or more a month on advertising were exempt. The site had told major advertisers that a big reason for this move was to "reduce fraudulent accounts and bots" on Twitter. While a number of big-name advertisers had already left the blue bird app for greener pastures, Musk has publicly thanked Disney for sticking around.
This debacle echoes the previous wave of fake verified accounts back when Twitter first introduced the $8 blue checkmark last year. Major drugmaker Eli Lilly lost $15 billion in market cap after a fake twitter account under Lilly's name claimed it was making insulin free (which may have played a part in Eli's recent decision to drastically reduce costs for some kinds of insulin). Despite Twitter's efforts, there's still many parody accounts still live on the platform pretending to be major brands.
Update 04/25/23 at 11:34 a.m. ET: This story was updated to include a message from Disney.
---
This article is part of a developing story. Our writers and editors will be updating this page as new information is released. Please check back again in a few minutes to see the latest updates. Meanwhile, if you want more news coverage, check out our tech, science, or io9 front pages. And you can always see the most recent Gizmodo news stories at gizmodo.com/latest.