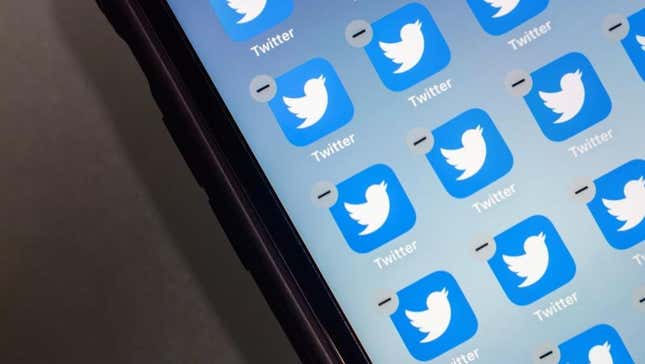 One day after Elon Musk followed through on his months-long threat to remove blue checks from Twitter accounts that were verified before his tenure, Twitter sent advertisers an email telling them they can't advertise on the platform unless they subscribe to Twitter Blue. Accounts that already spend $1,000 or more a month will apparently be exempt.

Twitter Verification is a Hot Mess
"Starting April 21, your @account must have a verified check mark or subscribe to either Twitter Blue or Verified Organizations," Twitter's email read, according to several Twitter users who posted screenshots of the message. "Business accounts spending in excess of $1,000 per month already have gold checks or will soon, and they'll continue to enjoy access to advertising without interruption at this time."
It's a bizarre strategy, considering the fact that Twitter is the one in the equation that lacks access to advertising. The beginning of Musk's ownership of Twitter started a mass exodus of advertisers who didn't want their ads to run on a social network that might soon be inundated with hate speech and other disturbing content, which Twitter was. Reports suggest Twitter's advertising income, the company's main source of revenue by a mile, is still in dire straits.
"This change aligns with Twitter's broader verification strategy: to elevate the quality of content on Twitter and enhance your experience as a user and advertiser. This approach also supports our ongoing efforts to reduce fraudulent accounts and bots," Twitter's email said. "Subscribing to either of these services means you have been verified by Twitter as a real person and/or business."
It's unclear how forcing advertisers to pay more does a better job than the previous verification system. Throwing up an additional barrier to the pool of potential advertisers still willing to spend on Twitter is all but guaranteed to drive marketers away, and a number of advertising professionals on Twitter said as much.
The ploy seems likely to cost the company more than it could ever recoup from advertisers willing to spend an extra $8 for the privilege of giving Twitter money. A number of players in the advertising business wrote on Twitter that the move will likely hurt the company's marketing business.
Musk's self-sabotage-first-ask-questions-later strategy has infected nearly every part of Twitter's operation. Twitter's new verification process does little to confirm an account's identity aside from confirm that the user has a working phone number.
When Musk first opened blue checks up to anyone willing to cough up $8, trolls seized the opportunity and started impersonating major brands and prominent figures. One tweet coming from a user pretending to be Eli Lily tanked the drug manufactuerer's stock, erasing billions of dollars in market cap. Yesterday, when Twitter removed legacy verification from any account that wasn't coughing up Musk's $8 protection money, the trolls stuck again, impersonating prominent accounts that lost their check marks.
Twitter auto-responds with a poop emoji when you email its communications department, reflecting the billionaire's utter disdain for members of the press unwilling to lick his billionaire boots. In related news, Twitter did not immediately reply to Gizmodo's request for comment. However, Twitter's email to advertisers explained the "strategy" behind its decision to coerce advertisers to pay for Twitter Blue.
Musk's impulsive business strategies often lead to immediate backlash. Typically his response is to get defensive, though sometimes he reverses course. Over the past month, Twitter applied a "state sponsored media" label to the NPR account, demonstrating his own ignorance about the business model of public broadcasting. NPR and several other outlets then announced they would stop using Twitter. On Thursday, Twitter removed all state affiliated and state sponsored labels from the platform, including accounts from actual propaganda outlets, such as the Kremlin's RT.

The CEO's reactionary public relations tactics crop up in Twitter's ongoing advertising train wrecks as well. Musk famously called for a "thermonuclear name and shame" against advertisers that fled Twitter in his early days at the company. Somehow, that didn't seem to win back any advertisers who left because they were worried about reputational risks.
This week saw another example: Microsoft announced it dropped Twitter from its advertising network, which will have serious financial consequences for the social media network. Musk responded with a threat, tweeting a comment on an article about the move that referenced the data used to train AI algorithms in Microsoft's partnership with OpenAI, the maker of ChatGPT. "They trained illegally using Twitter data. Lawsuit time," Musk tweeted.