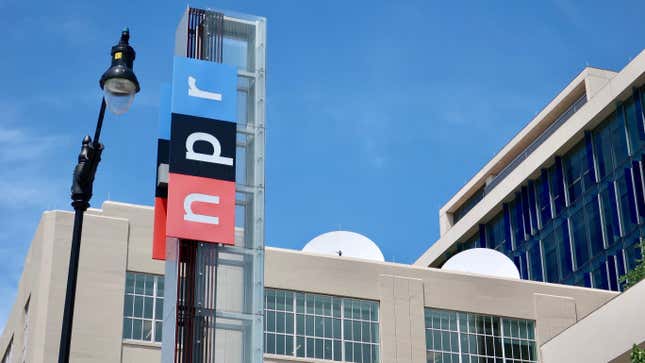 National Public Radio will stop posting on Twitter, across all of its organizational accounts, the media outlet announced on Wednesday. NPR won't be deleting its accounts off of the Elon Musk-owned platform, however the non-profit news org will cease activity on Twitter.

NPR Is Going Dark on Twitter | Future Tech
"NPR's organizational accounts will no longer be active on Twitter because the platform is taking actions that undermine our credibility by falsely implying that we are not editorially independent," Isabel Lara, NPR's chief communications officer, told Gizmodo in an emailed statement. She clarified that the accounts will stay intact (likely to protect against imposters) but emphasized that they're good as dead anyway.

"We are not putting our journalism on platforms that have demonstrated an interest in undermining our credibility and the public's understanding of our editorial independence," Lara's email said.
Those same words were also part of a larger statement from the organization's CEO John Lansing sent out to NPR's staff. "It would be a disservice to the serious work you all do here to continue to share it on a platform that is associating the federal charter for public media with an abandoning of editorial independence or standards," Lansing wrote.
The decision comes less than 10 days after Musk slapped a "state-affiliated media" label onto NPR's Twitter account. The label was decried by both the outlet and others across journalism as inaccurate since NPR is considered editorially independent from the U.S. government. NPR and its member stations do receive a small portion of their annual budgets through federal, state, and local funding, but those grants do not necessarily amount to "affiliation" or influence.
After backlash, Musk agreed that he'd made a mistake relying on Wikipedia alone to source his media outlet Twitter labels. On Sunday, he changed the label from "US state-affiliated media" to "Government Funded Media." For NPR though, the change wasn't nearly enough, and the damage was done.
NPR's primary official Twitter account ceased posting after April 4, until today when the outlet shared and pinned a thread that outlines other ways the public can access its content. The series of tweets amounts to a swansong for NPR's accounts, and directs visitors to visit the news org's Facebook, Instagram, LinkedIn, and TikTok accounts instead. It also promotes the outlet's push alerts, app, and Up First newsletter.

"We are turning away from Twitter but not from our audiences and communities. There are plenty of ways to stay connected and keep up with NPR's news, music, and cultural content," Lara and Lansing' statements noted.
The Public Broadcasting Service is also stepping away from Twitter after being labeled "Government-funded media." The television network's Twitter bio reads, "PBS's editorial independence is central to our work, and will never change. We produce trustworthy content that features unbiased reporting." PBS told Axios Wednesday that they stopped tweeting as soon as they saw the new label and that they "have no plans to resume tweeting."
Twitter has been messing with news outlets in more ways than one. On April 1, the social site removed the New York Time's verified label. Musk's Twitter has also been known to ban reputable journalists for unclear reasons.
Musk has openly expressed disdain for mainstream journalism, and under his direction Twitter is clearly targeting certain outlets. But what the billionaire might want to keep in mind is that Twitter probably needs news sources much more than news sources need Twitter.
The social platform, although popular among journalists, is but a teeny tiny driver of traffic and revenue to most outlets, per a recent Nieman Lab analysis. News sites have stepped away from Twitter without much hesitation before, as demonstrated by Fox News' previous long break from the platform. Conversely, Twitter needs content to host. If it drives away multiple major news outlets, chances are the quality of that content will suffer.
This article is part of a developing story. Our writers and editors will be updating this page as new information is released. Please check back again in a few minutes to see the latest updates. Meanwhile, if you want more news coverage, check out our tech, science, or io9 front pages. And you can always see the most recent Gizmodo news stories at gizmodo.com/latest.
Update 4/12/2023, 11:41 a.m. ET: This post has been updated with additional information from NPR CEO John Lansing's statement.
Update 4/12/2023, 3:10 p.m. ET: This post has been updated with new information about PBS also stepping back from Twitter.