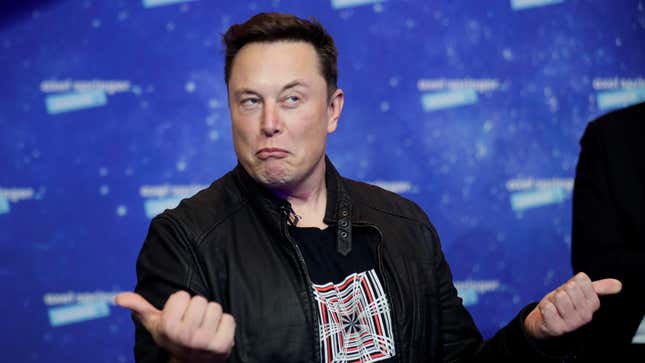 After making a huge deal about sticking labels on the likes of NPR and the BBC in the name of transparency, Twitter CEO Elon Musk has decided labeling media outlets' Twitter accounts wasn't so important, after all, even removing them from known propaganda outlets like Russia Today.
The Elon Musk Twitter Saga, Part 1 of Who Knows?
Musk told NPR reporter Bobby Allyn on Friday that Twitter had dropped all labels from media outlets on the platform. As of this morning, NPR, the BBC, Voice of America, and PBS, among others, had no labels. Musk started labeling media outlets, most notably calling NPR "state-affiliated" at the beginning of April, seemingly out of nowhere. The move drew intense pushback from the media outlets that received such labels, saying that Musk was casting doubt on their editorial independence, and led a weeks-long fight that ended with NPR leaving Twitter because Musk was "undermining our credibility," the outlet's statement read.
As to why he suddenly removed all labels, Musk told Allyn that he had been persuaded by Walter Isaacson, the best-selling author who is currently working on writing Musk's biography. Isaacson has previously written biographies on Steve Jobs, Benjamin Franklin, and Leonardo da Vinci.
"NEW: Elon Musk tells me Twitter has now dropped all media labels. Asked why, Musk says: 'This was Walter Isaacson's suggestion,'" Allyn tweeted.

The Twitter CEO has been insisting for weeks that sticking labels on media outlets was a matter of "transparency and accuracy," even though his criteria for applying certain labels, which included "state-affiliated media," "government funded media," and "publicly-funded media," often made no sense. Musk at one point admitted to using Wikipedia to decide which media outlets got the "government-funded media" labels.
However, as with many decisions made by Musk, there was a catch. Not only had Musk removed the "government funded media" and "publicly-funded media" labels that had irked NPR and the BBC, he also removed the "state-affiliated media" labels from known government propaganda outlets like China's Xinhua News and People's Daily as well as Russia's RT. Previously, users whose tweets shared links to state-affiliated media websites were labeled to indicate the outlets were aligned with the state's goals.
"State-affiliated media is defined as outlets where the state exercises control over editorial content through financial resources, direct or indirect political pressures, and/or control over production and distribution," Twitter explained in its platform guidelines, which could still be viewed on Thursday night. "Accounts belonging to state-affiliated media entities, their editors-in-chief, and/or their prominent staff may be labeled. We will also add labels to Tweets that share links to state-affiliated media websites."
Eliminating the "state-affiliated media" label from these accounts makes it harder for users to tell that their content is controlled by the government. It's also unclear whether Twitter will continue to label tweets that link to state-affiliated media websites. Twitter deleted its guidelines on government and media account labels on the platform on Friday, and clicking on the link takes you to a 404 page. The guidelines can still be viewed on the Internet Archive's Wayback Machine.

Gizmodo reached to NPR for comment on Friday morning and asked whether the outlet would consider returning to Twitter now that the labels were gone but did not immediately receive a response.