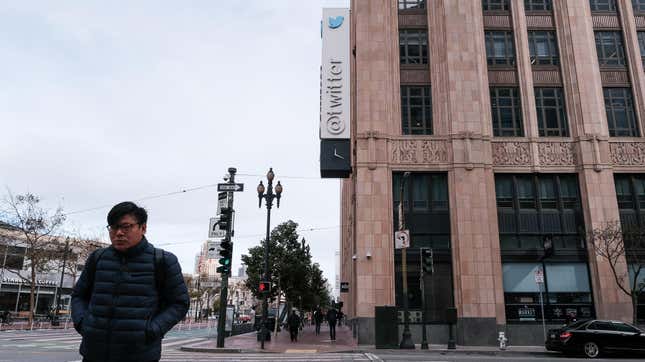 Twitter owner Elon Musk is facing yet another lawsuit claiming he was too busy trying to fire half the company he didn't give his former tweeps the legally required two months of notice. On Tuesday, ex-Twitter contract workers filed a proposed class action lawsuit against the blue bird app and their former employer TEKsystems Inc. The former contractors claim Twitter did not grant them the mandatory 60 days advance notice before laying them off.
NPR Is Going Dark on Twitter | Future Tech
The lawsuit does not describe what kind of work the contractors did at the Musk-owned platform, though it claimed their duties were "indistinguishable" from other Twitter employees. It claims that Twitter was active in the hiring process, even interviewing the contract employees and negotiating pay. Some worked at Twitter offices while others were remote as far away as Florida. 
This is not the first time Twitter's been hit with a lawsuit for its mass layoffs. There are five other pending cases calling out the blue bird app's broken cage, according to Reuters. In December, some female ex-tweeps sued their former company claiming the layoffs targeted women and denied severance. In January, a federal judge in California denied a separate proposed class action regarding the 60-day notice period, and told each of the individuals involved they needed to seek individual arbitration. However, this new case is being handled by a separate magistrate judge, so time will tell whether this class action suffers the same fate.
The lawsuit does not say how many employees worked for Twitter through TEKsystems. The one ex-employee named in the lawsuit, Christina Gadala, said she was a senior scala engineer who worked remotely from Miami, Florida. The lawsuit also says Gadala and other contract employees were promised they would eventually be transitioned into full-time Twitter staff. 
Gadala said she worked for Twitter from June until Nov. 12 when she and many other Twitter employees found themselves out of a job, and she only found out after she was cut off from the Twitter's dev suite and email.
Under California's Worker Adjustment and Retraining Notification (WARN) Act, contract staff who have worked at least six of the past 12 months need to receive the same 60-day notice as other, full-time staff. Things are more complicated under the federal WARN act. According to a Department of Labor fact sheet, contract employees with a "separate employment relationship with another employer and are paid by that other employer" and do not require notice. This and more cases for people working remotely could test whether WARN could consider those working from home as part of the 60-day notice requirement. The lawsuit argues that contract workers are owed back pay and notice since both companies had more than 100 employees.
Gizmodo reached out to Twitter, which responded with a "poop" emoji (just saying, Musk, this is probably a poor idea when you have a lot of people looking to sue you.) Gizmodo reached out to TEKsystems but we did not immediately hear back.
The Massachusetts-based law firm Lichten & Liss-Riordan claims it is representing four separate class action suits and 1,700 more examples of arbitration challenging Twitter's layoffs.
Twitter started with its first round of mass layoffs after Musk took over last October, and now after cut after cut after cut the company is well below half its former global strength.