Just how musical is Joss Whedon? Apparently musical enough to give fans who'll end up buying the planned DVD version of his new, weird vanity project Dr. Horrible's Sing-Along Blog an entirely new set of songs to accompany the 42-minute short movie. Whedon also revealed how, and when, the movie will be released online.
Explaining his plans about a possible DVD version of his web short, Whedon told TV Guide:
We're already working on some of the DVD extras, which are going to be the finest in all the land. We're actually going to do, in addition to the commentary, what we refer to as 'commentary with an exclamation point'! A musical commentary that is a completely original musical, that is all commentary songs, and we're writing that now... We're just piling it on. We're like, we're going to make more fun of the idea of extras than anything else.
And where there's a DVD, there's sequel potential... maybe:
Whether this has any impact on the Internet is unclear to me. It will be something that hasn't been done. And although some people came up with a plan on how to monetize this right away, our first priority was to put this out. We do it for the fans, we do it as an advertisement for itself and for just this culture, this idea of people who are doing something smaller scale but hopefully in such a way they can reach a lot of people. And maybe then it can make us an eleven-ty kadillion dollars. Or maybe it won't.
G/O Media may get a commission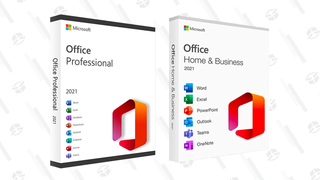 89% off
Microsoft Office Professional 2021 Lifetime License
Dr. Horrible, will be an "internet miniseries event," streaming for free on the show's official site. Part 1 will appear on Tuesday, July 15, and the the second and third parts will appear July 17 and 19. All three parts will disappear on July 20, but Whedon hopes to have all three parts available for downloading soon afterwards.
Exclusive: First Look at Joss Whedon's "Dr. Horrible" [TV Guide]