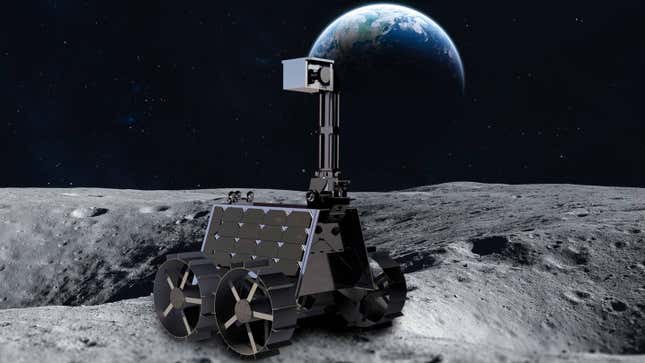 China's plan to reach the widely coveted lunar south pole—where NASA hopes to touch down in 2025 with Artemis 3—has been disrupted by a decades-old U.S. trade law. The International Traffic in Arms Regulations, or ITAR, has seemingly prevented the 2026 Chang'e 7 mission from including UAE's Rashid 2 rover.

Astronomers Could Soon Get Warnings When SpaceX Satellites Threaten Their View
The South China Morning Post reported on the shakeup last week, citing two anonymous sources familiar with China's mission. Rashid 2 would have joined the uncrewed Chang'e 7 mission to the south pole, the goal of which is to ready the area for China's planned International Lunar Research Station. The two countries signed a memorandum of understanding this past September, but now ITAR—which regulates the development, sale, and export of military goods for such things as launch vehicles and submersibles—is keeping the collaboration grounded.
"As far as I can tell, the worry [among U.S. officials] is that when Rashid 2 arrives in Xichang for the launch on China's rocket, Chinese engineers will sneak in one night and take it apart, study all the designs and put it back together before morning," Harvard-Smithsonian astrophysicist Jonathan McDowell told the Morning Post.
As SpaceNews points out, ITAR applies to both domestic companies and foreign parties that have access to items that were designed in the U.S. under ITAR. In this case, it's not immediately clear which aspects of the legislation apply to the rover or mission. Precedents exist for components being developed in exception of ITAR, such as in cases in which Europe and China have cooperated on satellites that were developed outside the purview of the law.
"Now that China is a major space power, I suspect the long-term result—assuming the U.S. does not change its attitude—will be more ITAR-free products developed in places like Europe and the UAE, and ultimately the rest of the world depending less on buying U.S. space products," McDowell told the Post.

ITAR is a product of a time when the space race was in its infancy, an era in which the U.S. worried that the Soviet Union might gain a competitive advantage in space. Trade laws will always be with us, but it's fair to say that ITAR is now antiquated and could use a long-needed upgrade. And to McDowell's point, U.S. industry—and its international partners—could suffer should the law remain as it is now. Just ask the UAE.
SpaceX, with its Falcon 9 rocket, launched the first Rashid rover in December 2022 as part of Japan's first private mission to the Moon (it's slated to arrive in April). The Rashid rover has ESA-developed tech on board and the rover itself was constructed at Mohammed Bin Rashid Space Center in Dubai, UAE, while the Hakuto-R lunar lander belongs to Japanese company ispace. 
For more spaceflight in your life, follow us on Twitter and bookmark Gizmodo's dedicated Spaceflight page.