Being part of Trump's economic advisory team and the head of an international Silicon Valley company has Uber co-founder Travis Kalanick in a bit of a pickle. His official statement regarding the president's immigration ban takes virtually no position aside from that America is great.

Kalanick joined other tech companies this afternoon in addressing the impact that the travel ban will have on his employees:
Our People Ops team has already reached out to the dozen or so employees who we know are affected: for example, those who live and work in the U.S., are legal residents but not naturalized citizens will not be able to get back into the country if they are traveling outside of the U.S. now or anytime in the next 90 days. Anyone who believes that this order could impact them should contact immigration@uber.com immediately.
G/O Media may get a commission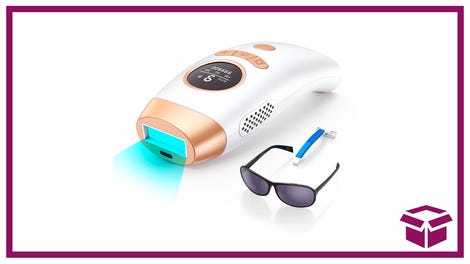 58% Off + Coupon
IPL Hair Removal Device
A dozen or so employees doesn't seem to indicate that the ban will have a terribly large impact on the company. Microsoft, for example, says it has identified 76 employees that would be affected by the order. But Kalanick goes on to acknowledge that "thousands of drivers" in Uber's unofficial workforce come from the listed countries.
We are working out a process to identify these drivers and compensate them pro bono during the next three months to help mitigate some of the financial stress and complications with supporting their families and putting food on the table. We will have more details on this in the coming days.
That's good, we look forward to hearing more details about the ways in which Uber will take care of the people drive for them. With that out of the way, Kalanick gets into some vague talk about politics and avoids all mention of real principles.
Ever since Uber's founding we've had to work with governments and politicians of all political persuasions across hundreds of cities and dozens of countries. Though we share common ground with many of them, we have had areas of disagreement with each of them. In some cases we've had to stand and fight to make progress, other times we've been able to effect change from within through persuasion and argument.
So, what sort of change would he like to see occur through his company's use of "persuasion and argument?" He doesn't say. Instead he points out that he sits on Trump's economic advisory board and that the bans impact on innocent people is an issue that he "will raise this coming Friday when I go to Washington."
He throws out a bromide about it being "OK" for people to disagree with his choices to collaborate with Trump:
I understand that many people internally and externally may not agree with that decision, and that's OK. It's the magic of living in America that people are free to disagree. But whatever your view please know that I've always believed in principled confrontation and just change
And he wraps up by bragging that he has "never shied away (maybe to my detriment) from fighting for what's right," even though that's exactly what he just did.

One can argue that having a seat at the table with Trump gives someone special access to change things for the better. That doesn't mean that you have to keep your mouth shut about your company's official perspective on the issue. Kalanick acknowledges how many people that helped make him rich will be hurt by this order but says nothing to stand up for them.
Before the election, many in Silicon Valley worried about the "Muslim ban" because of the potential impact it might have on their workforce and the brain drain that it could cause in the United States. Now that the travel restrictions have been put into place, responses from the tech world have slowly trickled out.
Facebook CEO Mark Zuckerberg jumped in early yesterday with a post expressing his concerns. He at least stated his beliefs that law enforcement shouldn't penalize people who have done no wrong and that we should be accepting refugees. Asked by Gizmodo if the company had anything to add today, a spokesperson responded: "We are assessing the impact on our workforce and determining how best to protect our people and their families from any adverse effects."
Google has gone a little further. Its CEO Sundar Pichai announced that the search giant was urging its 187 employees that will be directly affected by the ban to get home immediately. Pichai did acknowledge that it is "painful to see the personal cost of this executive order on our colleagues" and "we wouldn't wish this fear and uncertainty on anyone – and especially not our fellow Googlers."
Meanwhile, Microsoft's CEO Satya Nadella posted an internal email from the company's president, Brad Smith. Nadella highlighted a paragraph from the message and said that Microsoft would continue to "advocate on this important topic." The selected paragraph reads:
As a company, Microsoft believes in a strong and balanced high-skilled immigration system. We also believe in broader immigration opportunities, like the protections for talented and law-abiding young people under the Deferred Access for Childhood Arrivals (DACA) Program, often called "Dreamers". We believe that immigration laws can and should protect the public without sacrificing people's freedom of expression or religion. And we believe in the importance of protecting legitimate and law-abiding refugees whose very lives may be at stake in immigration proceedings.
It's not exactly strong on its condemnation but at least we have an idea of where they stand.
Apple CEO Tim Cook went with a Martin Luther King Jr quote and said that the ban is "not a policy we support."
Twitter's Jack Dorsey tweeted, "The Executive Order's humanitarian and economic impact is real and upsetting. We benefit from what refugees and immigrants bring to the U.S." He also linked to the Internet Association's more robust statement.
Reed Hastings, CEO of Netflix, finally showed these guys how simple it is to just fucking condemn this bogus and likely illegal order:

Trump's actions are hurting Netflix employees around the world, and are so un-American it pains us all. Worse, these actions will make America less safe (through hatred and loss of allies) rather than more safe. A very sad week, and more to come with the lives of over 600,000 Dreamers here in a America under imminent threat. It is time to link arms together to protect American values of freedom and opportunity.
That wasn't so hard. The action is un-American and we should stand up against. And oh look, Mark Zuckerberg seems to feel the same way: