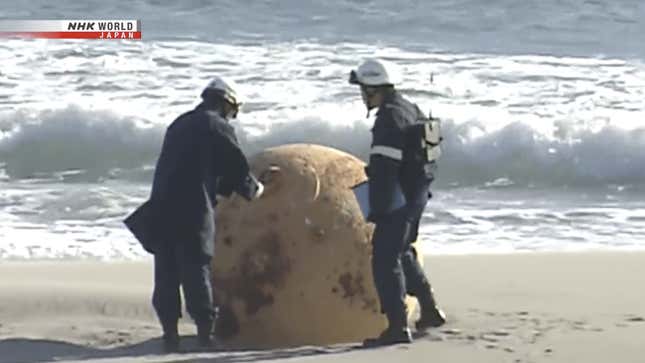 A metal sphere, which many are calling Godzilla's egg, washed up on the shore of Enshu beach in Hamamatsu, Japan. Authorities responded to the scene where a woman reported that she had stumbled upon the sphere while out for her morning walk.
Lamar Johnson Loves Beyblades and Pokemon
A man told NHK News that he didn't understand why it was getting so much attention, saying he had spotted the metal sphere (measuring 1.5 meters/4.9 feet in diameter) more than a month earlier. "It's been there for a month," he told the outlet, adding, "I tried to push it, but it wouldn't budge."
The reports led social media to explode with conspiracy theories, among the most popular is that it's a Godzilla egg. Others said they believed it to be a ball from the popular manga TV series, Dragon Ball Z, and some speculated it could be a dragon egg.
Those on social media have questioned if the metal sphere could be similar to the Chinese spy balloon shot down over the U.S. earlier this month and other theorists argue the sphere could be a UFO after Japanese officials acknowledged that balloons have been flown in their airspace in the last couple of years.
Japanese authorities remained flummoxed after viewing the metal sphere and worried that it could be something more sinister, thinking it might be a stray mine explosive professionals wearing protective gear were brought to the site. However, X-rays revealed it is hollow and authorities say they do not believe it is a threat to the public.
Despite their assurances, the area remains cordoned off and authorities say they are still unsure what the large object is, NHK reported. Their follow-up theory is it is a mooring buoy based on the sphere's rust-colored hue and two raised handles on its surface, with authorities claiming it may have washed up on shore after falling loose. Asahi TV reported it will be retained to allow someone time to claim it before it is destroyed, according to The Guardian.
The ball will now reportedly be moved to a facility where it will be destroyed if someone does not claim it while images of the metal sphere are examined by the Japanese armed forces and coastguard officials.