Facebook is having a really bad week. And it just got even worse for CEO Mark Zuckerberg. The British House of Commons has officially sent Zuck a letter asking him to come to London and testify about how he plans to "fix" Facebook. Best of luck with that, mate.

The letter, which was just published to Twitter by technology reporters in the UK, explains that the government committee overseeing digital privacy had already heard from Facebook officials, but that those representatives from the social media company had been "misleading."
The UK now wants a high-level executive, preferably Zuckerberg himself, to go to London and testify about the "catastrophic failure" of Facebook's handling of private user information.
The letter reads:
Dear Mr Zuckerberg
Request for oral evidence

Following material published in the UK Guardian and the New York Times over the past few days, the Committee would like to request that you appear before us to give oral evidence.

As I said in my statement, the Committee has repeatedly asked Facebook about how companies acquire and hold on to user data from their site, and in particular about whether data had been taken without their consent. Your officials' answers have consistently understated this risk, and have been misleading to the Committee.

It is now time to hear from a senior Facebook executive with the sufficient authority to give an accurate account of this catastrophic failure of process. There is a strong public interest test regarding user protection. Accordingly we are sure you will understand the need for a representative from right at the top of the oganisation to address concerns. Given your committment at the start of the New Year to "fixing" Facebook, I hope that this representative will be you.

We would like to receive your response by Monday 26 March.
Facebook did not immediately respond to a request for comment about the letter. Update, 1:09pm: Facebook just sent us this statement from Paul Grewal, VP and Deputy General Counsel:
We are in the process of conducting a comprehensive internal and external review as we work to determine the accuracy of the claims that the Facebook data in question still exists. That is where our focus lies as we remain committed to vigorously enforcing our policies to protect people's information.
G/O Media may get a commission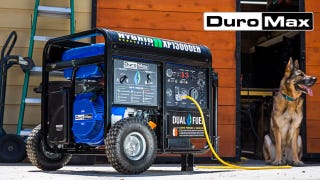 Black Friday Sale
DuroMax Generator Sale
The House of Commons will already be hearing from a former Facebook employee as early as tomorrow. Sandy Parakilas worked on the security team at the social media company and told the Guardian in an article published today that he tried to warn Facebook about the potential for data breaches. Parakilas paints a dark picture of an information gathering free-for-all by incredibly shady characters.
"Once the data left Facebook servers there was not any control, and there was no insight into what was going on," Parakilas told the Guardian.
Facebook has come under increased scrutiny in the past few days after it was revealed that Cambridge Analytica used the data of over 50 million Facebook users to exploit their fears and launch a sophisticated propaganda campaign on behalf of Donald Trump's team.

And to make things even worse for Facebook, it also came to light just yesterday that Cambridge Analytica engages in some pretty dirty business practices. Britain's Channel Four ran a 20-minute documentary with undercover footage of the company's CEO admitting that the company orchestrates bribes of politicians with the explicit purpose of filming those encounters and releasing the footage online.
The company's CEO, Alexander Nix, also admits to bringing sex workers from Ukraine into various countries in order to entice government officials with sex. Those encounters are also filmed and used to discredit candidates around the world, Nix says in the video.
And if that wasn't enough, the rumor mill is now swirling with reports that Alex Stamos, Facebook's chief information security officer, is resigning over disagreements with other top executives at the media company. Specifically, Stamos is reportedly upset that Facebook isn't being more upfront about the ways its platform was used to manipulate American voters during the 2016 election.
But not so fast, says Stamos. He swears he's not going anywhere. Or, at least, that's what he's kind of implying. Stamos, while not exactly denying the fact that he might be leaving in the summer, says that he's "fully engaged" at Facebook. He does admit that his role at the company has shifted.
The New York Times reports that Stamos wanted to quit but was "persuaded to stay" until August. Top leadership at Facebook apparently thought it would look bad to have Stamos jump ship while the ship was on fire. Which isn't altogether wrong.
Facebook's stock price plummeted yesterday on news that the company is imploding. And Facebook plans to hold a company-wide meeting today to discuss the shitshow. But we'll see if it can pull out of this nosedive.
With Zuck himself totally silent, it should be interesting to see how he responds to a request to testify in the UK. So far, the US hasn't formally asked top social media executives to testify, though that could be changing. Democratic Senator Mark Warner tweeted that he'd like to see Zuck and other CEOs testify in front of Congress. With the shit truly hitting the fan, the days of hiding behind lawyers on Capitol Hill may be over for people like Mark Zuckerberg.
[Twitter and New York Times]