After weeks of anticipation, United Launch Alliance (ULA) fired up the two engines of its Vulcan Centaur rocket to prepare for its inaugural flight.

Astronomers Could Soon Get Warnings When SpaceX Satellites Threaten Their View
The Colorado-based company completed the final flight readiness test of its heavy-lift rocket on Wednesday at 9:05 p.m. ET at Cape Canaveral's Space Launch Complex 41. The entire test lasted for about six seconds, with the rocket's two BE-4 engines, which run on a mixture of liquid methane and liquid oxygen, throttling up to their target level for two seconds before powering down, ULA said in an emailed statement.
"The team is reviewing the data from the systems involved in today's test and, in parallel, continue with the Centaur V test stand anomaly investigation," ULA wrote on Twitter shortly after Thursday's static fire test. "Pending the data review and the investigation results, we will develop a plan for launch."
The Colorado-based company had originally scheduled Vulcan's static fire test for May 25 but ended up rolling the rocket from its launch pad back to the Vertical Integration Facility after the ignition system of its booster's engine registered a delayed response. That hasn't been ULA's only setback in seeing its heavy-lift rocket get off the ground.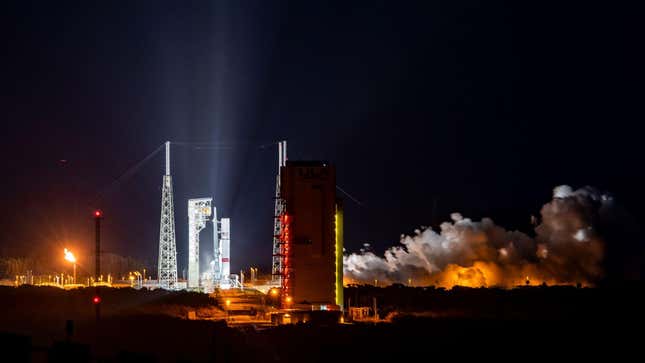 The fully expendable 202-foot-tall (62-meter) rocket was originally scheduled for its debut liftoff on May 4. Two weeks before its scheduled launch, however, a fiery explosion swept over the rocket's test stand at NASA's Marshall Space Flight Center in Alabama while engineers were pressurizing its upper stage.
ULA's Vulcan Centaur is set to replace ULA's Atlas V and Delta IV rockets, which have been in use for the past two decades. The company has been eager to see its rocket fly, initially aiming for a 2020 debut launch. The rocket's first stage is powered by two BE-4 engines built by Blue Origin, which were delivered more than four years past the deadline, contributing to the delay of Vulcan's inaugural flight.
The rocket's first mission will attempt to deliver Astrobotic's Peregrine lunar lander, which, on behalf of NASA, is designed to deliver 11 payloads to the surface of the Moon. Vulcan Centaur is also carrying the first two Amazon Kuiper internet satellites, which are supposed to be delivered to low Earth orbit.
ULA is under contract to deliver 35 missions for the U.S. Space Force in the next five years, but the rocket needs to complete two missions in order to get certified to launch U.S. military and intelligence satellites for the Space Force.
The Vulcan Centaur is designed to lift 27.2 metric tons (60,000 pounds) to low Earth orbit and 6.5 metric tons (14,300 pounds) to geosynchronous orbit.
For more spaceflight in your life, follow us on Twitter and bookmark Gizmodo's dedicated Spaceflight page.