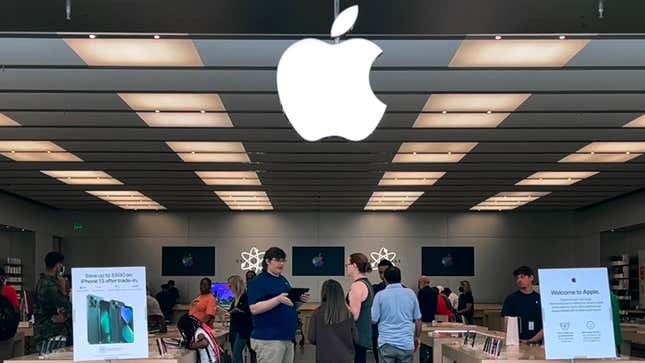 Workers at one of only two unionized Apple stores in the country are in the throes of contract negotiation. One of the many ideas on the table: introducing the option to tip into customer transactions.

Teenage Cybercrime Gang LAPSUS$ Strikes Again
Employees at an Apple Store at the Towson Town Center mall, just north of Baltimore, Maryland, successfully unionized with the International Association of Machinists and Aerospace Workers back in January. They were the first Apple retail employees to do so—despite the company's union-busting efforts elsewhere. Now, those ~100 staff members are in talks with the tech giant to try to establish new workplace protections and benefits for themselves.
So far, Apple has tentatively agreed to improve the process for fixing flawed paychecks, update its nondiscrimination policy, create a new health and safety committee, and commit to rehiring employees laid off from other store locations. Yet the buck doesn't stop there.
In the workers' most recent contract proposal, they've asked for numerous changes. The employees are requesting wage increases up to 10%, more paid holidays including Black Friday, higher overtime pay, two weeks of severance per year employed, extended bereavement leave, more paid time off dependent on an employee's number of years working at the store, and other policy adjustments according to an extended tweet thread from the union and a Wednesday report from Bloomberg.
Additionally, the workers have proposed bringing a tipping system into the store. Specifically, they're looking to add the option for customers to tip 3%, 5%, or a custom amount at check-out with credit card transactions. The union's Twitter account acknowledges the proposal is likely to be "a little controversial." However, the Coalition of Organized Retail Employees (CORE)—as the union is named—notes that customers regularly try to tip already, without any recourse to do so.
"If a customer insists on leaving you money, as they often do, the money is required to be placed in the safe and goes to the company, not the employees," CORE wrote in a post. "Though we do not see tips as a major way of generating income we wanted to create an acceptable system that allows the occasional customer the ability to reward our team for their hard work."
Moreover, CORE described potential tips as a method of "profit-sharing," and proposed that all tips would be pooled and split among workers in accordance with hours worked. "We understand there are a lot of concerns about the culture of tipping as a whole in the US, but there is currently no other mechanism that would otherwise allow customers to directly thank or contribute to the team that provided them with exceptional service," the union wrote.
Generally, tipping is uncommon in U.S. retail stores. Though, it's standard in restaurants, coffee shops, salons, and countless other customer service situations. Apple workers walk the line somewhere between service and retail. Genius Bar employees do offer extensive assistance and instruction to customers through one-on-one appointments. Under Apple's system, the interaction between workers and customers far exceeds a minute of being wrung up at a register. That doesn't necessarily mean tipping is the best solution for employees, but it's easy to see where the idea comes from.
"We realize that this is a negotiation, and these are initial proposals," the union said in a statement to Bloomberg. "Our goal is and always has been to bring back an acceptable contract for the membership to ratify." Or, in other words: CORE probably knows it's not going to get everything its members ask for. The early stages of any negotiation are for aiming high—concessions and compromises come later.