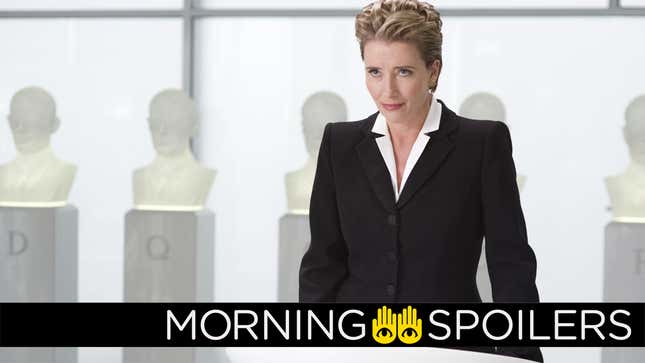 Emma Thompson is returning for Men in Black's spinoff sequel. Jude Law dances around discussing his role in Captain Marvel. Christopher McQuarrie still wouldn't mind directing the ephemeral, intangible Man of Steel 2. Plus, Peter Dinklage hits the post-apocalypse of I Think We're Alone Now, and what's to come on the finale of The 100. Spoilers, away!

Twitter Is Shifting Right | Future Tech

Men in Black
Emma Thompson will reprise her role as Agent O in the soft-reboot of Men in Black starring Tessa Thompson and Chris Evans in the lead roles. [THR]
---
Wonder Woman 1984
Insecure's Natasha Rothwell has joined the cast of the Wonder Woman sequel in an undisclosed, mystery role. [Deadline]
---
The Dead Don't Die
Variety reports recent set photos confirm Caleb Landry Jones has joined the cast of Jim Jarmusch's zombie movie, The Dead Don't Die.
---
Captain Marvel
Speaking with Entertainment Weekly, Jude Law would neither confirm not deny he's playing Mar-Vell, the original Captain Marvel.
Yes, it's been reported I'm playing Mar-Vell. I'm not going to confirm or deny that. It's been a very interesting experience. Brie Larson has approached it with incredible dedication and devotion. She really turned out a wonderful performance — fun and feisty and smart. I think she's going to be absolutely magnificent.
---
Avengers 4
In a recent interview with Screen Rant, Angela Bassett confirmed both Ramonda and Shuri survived Thanos's snap.
No. Neither did my daughter. Shuri, she's a bright girl there in Wakanda. So…
---
Man of Steel 2
Screen Rant also spoke to Christopher McQuarrie about the rumor he may direct Man of Steel 2.
To me, I'm interested in a good story. That's really what it is. I mean, when Man of Steel came up, it was because somebody had asked me, did I want to work with Henry again? Which I would in a second. I go through the door that opens.
---
Captain Britain
During the press junket for Mission: Impossible - Fallout, Simon Pegg elaborated on recent comments he'd like to play Captain Britain for the MCU.
I think somebody asked me recently at an interview that had nothing to do with superheroes. What superhero would I'd like to play. And I just sort of said Captain Britain, because I used to get the Hulk Weekly when I was a kid. And Captain Britain debuted in that. And he's a British superhero. I used to read the Knights of Pendragon. And I figured that was a good answer. Suddenly, all these rumors popped up. Oh, Simon Pegg wants to play Captain Britain. I don't really. But you know, I mean, I try to take every job as it comes. I don't have any ambition really to be in anything else, other than what I'm in now. If something comes up and it looks good, of course it'll be fun. I love watching the Marvel films. They're always so well executed. They've done a fantastic job with that sort of extended universe of movies. But I'm happy to be an audience member.
---
Puppet Master: The Littlest Reich
Bloody-Disgusting has the latest poster for the Puppet Master reboot, "from the producers of Bone Tomahawk and The Meg."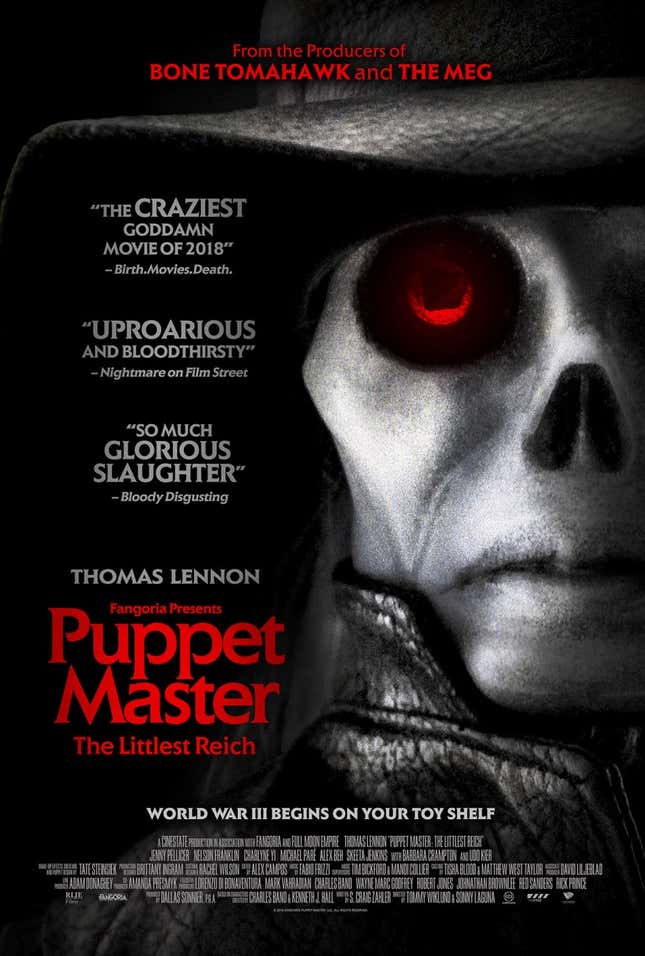 ---
I Think We're Alone Now
Peter Dinklage is the last man on Earth in the first teaser for I Think We're Alone Now.


---
Untitled YA Series
The Wayward Sisters' Kathryn Newton has joined the cast Christopher Keyser's upcoming YA series for Netflix. Newton will play Allie, the "second fiddle to her older sister, Kim" who "eventually will provide inspiration for Kim to step up and become a leader of the unmoored teens." [TV Line]
---
Snowpiercer
Spoiler TV reports Netflix will distribute TNT's Snowpiercer series internationally.
---
Arrow
TV Line spoke with the cast of Arrow about season seven.
---
Agents of SHIELD
Syfy Wire also interviewed Ming-Na Wen, Henry Simmons and Elizabeth Henstridge about season six and the return of Clark Gregg as a director.
---
The 100
The CW has released a trailer for the first half of The 100's two-part season finale, "Damocles."
---
The Outpost
The Outpost continues to find its Xena-meets-Stargate footing in the trailer for next week's episode, "Strange Bedfellows."
---
Killjoys
Finally, Delle and D'avin turn Johnny 'Hullen' in a clip from next week's episode, "Johnny Dangerously."
---
Banner art by Jim Cooke.