A federal appeals court on Friday overturned a portion of an Obama-era rule aimed at curbing unwanted calls from nuisance telemarketing companies.

The court found that a provision of the Telephone Consumer Protection Act (TCPA), intended to limit the use of automated dialers to make uninvited calls, was unreasonably expansive. The rule amending the TCPA was passed by the Federal Communications Commission (FCC) in 2015 under its previous Democratic leadership.
The case, heard by the US Court of Appeals for the District of Columbia, was brought against the FCC by ACA International, a trade association representing credit and collection agencies.
Specifically, the court found that a provision intended to limit robocalls was too broadly defined. The FCC had expanded the definition of what constituted an automatic telephone dialing system (ATDS) to the point that it may have been construed as applying to basically anyone with a smartphone.
Under the statute, an ATDS (or autodialer) was defined to mean any equipment that could dial numbers stored or produced "using a random or sequential number generator." Calls placed from such devices without achieving "prior express consent" from the call recipient were essential made illegal.
G/O Media may get a commission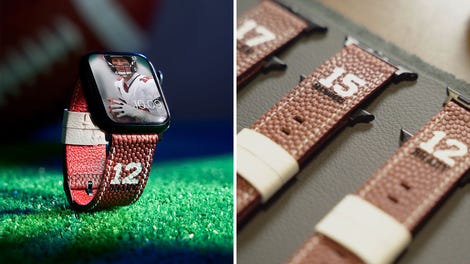 Official NFL PRODUCTS
Official NFL Apple Watch Bands
"It is undisputed that essentially any smartphone, with the addition of software, can gain the statutorily enumerated features of an autodialer and thus function as an ATDS," Judge Sri Srinivasan, a nominee of former President Barack Obama, wrote for the court.
The FCC's majority dismissed concerns that smartphones might be swept up under the autodialer statute, because, it believed, that typical use of a smartphone would be unlikely to produce unwanted calls resulting in legal action.
Srinivasan wrote however:
"If every smartphone qualifies as an ATDS, the statute's restrictions on autodialer calls assume an eye-popping sweep. Recall that the statute generally bars the use of an ATDS to make any call (or send any text message) without prior express consent, and tags each violation with a minimum $500 penalty in damages for each individual recipient of each prohibited call or message. The reach of the statute becomes especially pronounced upon recognizing that, under the Commission's approach, an uninvited call or message from a smartphone violates the statute even if autodialer features were not used to make the call or send the message."
He continued:
"Imagine, for instance, that a person wishes to send an invitation for a social gathering to a person she recently met for the first time. If she lacks prior express consent to send the invitation, and if she obtains the acquaintance's cell phone number from a mutual friend, she ostensibly commits a violation of federal law by calling or sending a text message from her smartphone to extend the invitation. And if she sends a group message inviting ten people to the gathering, again without securing prior express consent from any of the recipients, she not only would have infringed the TCPA ten distinct times but would also face a minimum damages recovery against her of $5,000."
In a statement on Friday, Republican FCC Chairman Ajit Pai praised the court's decision, noting that he had opposed the rules now overturned two years ago. He further called upon his agency to target "bad actors" targeting Americans consumers with robocalls in a fashion that doesn't sweep up millions of American consumers.
"We will continue to pursue consumer-friendly policies on this issue, from reducing robocalls to reassigned numbers to call authentication to blocking illegal robocalls," Pai said.

Pai's Democratic colleague, Commissioner Jessica Rosenworcel, who did not expressly condemn the ruling, said that robocalls are presently out of control. "It's past time for the American public to get a serious response from the FCC," she said, "and a reprieve from the unrelenting nuisance these calls have become for so many of us."
A statement from ACA International, the association that filed to have the FCC rule reviewed, is forthcoming. We'll update when it's published.