In case LEGOs aren't cool enough for you on their own, how about if we throw a gold-visor space helmet, USB drive, and some comic books into the mix? That's the ingenious thinking behind Jonathan Robson's concept design for the LEGO Audio Comic.
By inserting the LEGO-brick USB into a slot in the helmet, the lucky kid wearing it can follow along with the comics, games, and puzzles in the subscription-only magazine.
A student in product design at the University of Dundee in Scotland, Robson created the toy with his own memories as inspiration. He said:
When I was young I played with LEGO a lot and all I used to read was the comic stories in LEGO Club magazines, I'd like to give something back to them as they helped me learn to read... I've been looking at what I enjoyed in my childhood to apply to new ideas and solutions of today.
G/O Media may get a commission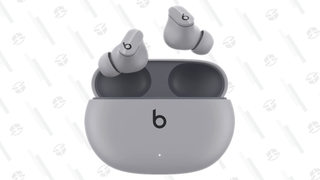 Our only question is, when can we order the adult-size version?