Now that skype is free, we suspect lots of people will try it at least once to save on long distance and cellphone charges. Problem is, not everyone has a speakerphone, personal communicator, or skype-enabled wifi phone.
This Skype-enabled speakerphone from Taiwan has them all beat. Why? With its "high quality" microphone, you can sit up to four feet away and still be heard cleanly. The DSP (Digital Signal Processor) also works to provide an echo-free experience for you and the other party.
Aside: Most of the time, when you hear echo on a conversation, it's caused by the other party. Their microphone is picking up the sound coming out of their speakers and feeding it back to you. Having them turn down their speaker volume should fix the problem in a good number of cases. The other instances are caused by crappy hardware, which can only be fixed by not being a cheapass. This has been a Gizmodo TechEd moment.
G/O Media may get a commission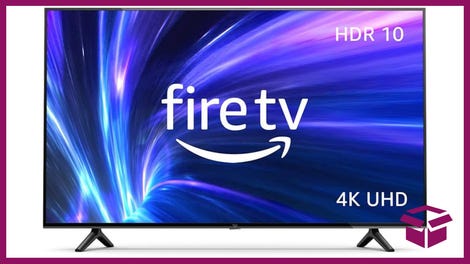 42% Off
Amazon Fire TV 50" 4K Smart TV
The uTalk connects to your Windows XP machine using USB, and has a mute button so you can discuss things with your colleagues behind the other party's back. Best of all, there are input and output jacks, so you can use it as a speaker for your iPod or computer, or plug in a pair of headphones to prevent others from hearing your conversation.
Available now for $75.
uTalk [PCHome]