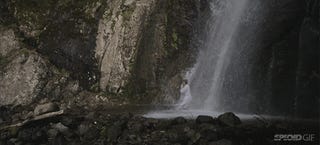 Shugendo is an old religion in Japan that started in the 7th century that focuses on a spiritual experience or awakening of sorts with nature. There's more to it then that, of course. But this film by Mathieu Le Lay explores that world and follows Yamabushi monk Kosho Tateishi during his prayer rituals.
It's a beautiful watch for the nature shots alone but is really interesting once you're spurred to dig into the idea of Shugendo more.
Kumano is a region in Japan where Shugendo, the Way of ascetic training and testing in holy mountains, has been practised for over a thousand years. This entire short film was shot there. It shows Yamabushi monk Kosho Tateishi, a Master and Teacher of Shugendo, during prayer rituals performed in the wild and at his temple. In his spiritual practices, Kosho is in visceral contact with the elements (earth, water, fire, wind) and in fusion with sacred Nature. The experience of Life through the physical senses awakes our consciousness and ultimately leads to enlightenment in this very body.

---