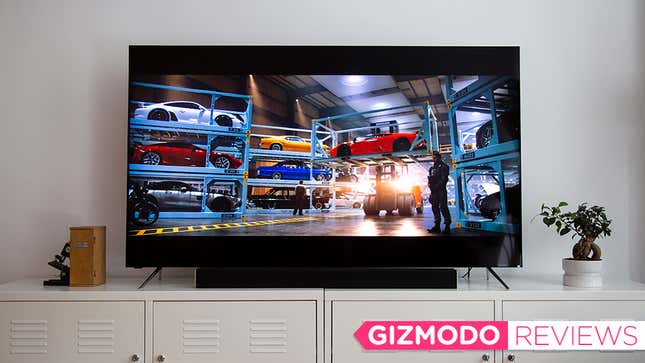 Many people know Vizio as the cheap flatscreen TV they owned in college. And indeed, the company has always sold very decent displays for very low prices. That formula is evolving with the new P-Series Quantum. This $2,200 65-inch 4K LED TV is undoubtedly out of reach for most students. But, Vizio claims, the P-Series Quantum delivers the performance you'd typically see in a $4,000 TV. After spending three weeks with the TV, I'm inclined to agree.
Taylor Lorenz Talks "Extremely Online"
The Vizio P-Series Quantum is an upgraded version of the company's more affordable P-Series which, for a 65-inch, retails for $1,200. What you get with the Quantum is a brighter display, a wider color gamut, more local dimming zones, and a slightly slicker design. It's also $1,000 more expensive.
While I did not get the chance to test the P-Series Quantum and a non-Quantum P-Series at the same time, I did see them side-by-side at a Vizio event. That extra stuff adds up to noticeably better TV-watching experience, especially if you're a fool for very black blacks and very bright highlights. I also saw the P-Series Quantum next to a $4,000 OLED TV. (Vizio obscured the brand name, but I think it was an LG.) It wasn't just comparable. In some respects, the cheaper Vizio display actually looked better.
Despite the flashy demo, I was fully expecting to be disappointed when the P-Series Quantum showed up in my living room. When it comes to TVs, I'm a big fan of value. Now that 4K is the de facto standard for resolution, the market for seemingly future-proof TVs has gotten super competitive, and it's not hard to find a 4K TV with HDR10+ and even Dolby Vision support for less than $1,000. Heck, you can find a bunch of great models for around $600. That makes the proposition of spending over $2,000 on a TV kind of tricky. If it has similar specs as the cheap one, that expensive TV should do something really special for three times the price.
The Vizio P-Series Quantum feels special. Out of the box, you can tell that this isn't your typical Vizio. The industrial design is sleek with glass that stretches from edge to edge. Although Vizio touts the Quantum as bezel-free, there is a tiny half-inch-wide bezel which is close to nothing. Keeping with the minimalist approach, the TV has spindly chrome legs so light that it almost seems like the screen is floating in midair.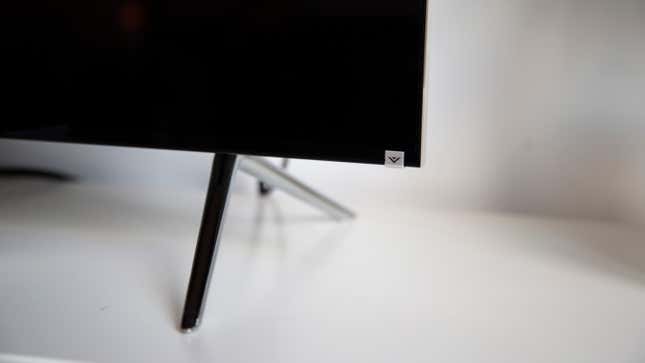 It's also an absolute blast to look at, so much so that I found myself binging on TV shows even though I quit doing that kind of thing a few years ago. I even rejoined Netflix, so that I could feast my face on some of its Dolby Vision content. (Maniac is great, by the way.) I rewatched some of my favorite movies on 4K HDR Blu-ray and gawked at the bright colors that simply screamed on the vivid display. Vizio brags that the Quantum is its "brightest TV with up to 2,000 Nits" which, along with the display's 192 zones of local dimming, helps to create super bright highlights and very black blacks.
I think these claims are true, to a degree. But more intensive testing did show that Vizio is utilizing a few tricks to make the P-Series Quantum look like a more expensive TV. This doesn't mean that the picture doesn't look great. It does! However, if you want to get down to the super technical aspects of picture quality and compare Vizio's new hardware to high-end OLED displays, the P-Series Quantum does have some limitations. We found this out by testing the TV with a SpectraCal C6 colorimeter and CalMAN's professional TV calibration software. These aren't tools the average TV owner would ever really come into contact with, but they did offer some insightful details about what this display can do.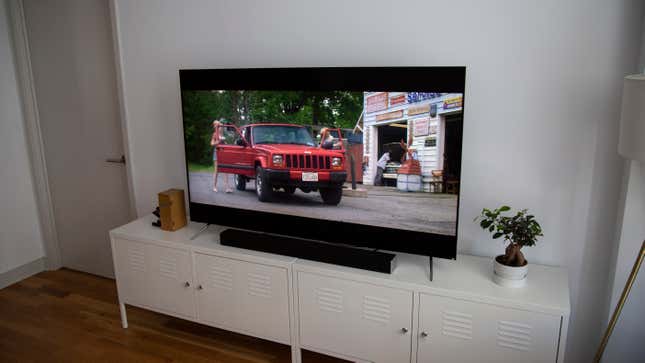 Let's use those bright colors as an example. They are vibrant, and that makes superhero movies look really awesome. However, if you're after accuracy, you might find yourself facing some limitations when it comes to calibrating. Most displays get calibrated when they come off the assembly line, and TV manufacturers provide a few different preset calibrations like standard or vivid. However, many people will find that more advanced calibration can improve image quality in specific settings like a dark home theater. The Vizio P-Series Quantum just doesn't offer as many granular settings as you might find on a more expensive TV, like the new Sony Master Series or LG's high-end OLED TVs. So the vivid colors you see when the Quantum TV comes out of the box, but they might be too saturated for more discerning eyes. And Vizio doesn't offer quite as many ways to adjust this as some other TV manufacturers do.
This isn't a terribly big deal, but it's worth mentioning, when looking at a TV that costs as much as a used car with high mileage. It seems like Vizio is pushing lower-priced hardware to do what more expensive guts can do. That means offering a super wide color gamut but falling a little bit short on color accuracy because everything is a little bit oversaturated. Don't get me wrong, either. Top quality content, like movies in Dolby Vision, looks really good on the P-Series Quantum. But you might find that skin tones on your local news broadcast look a little too vibrant.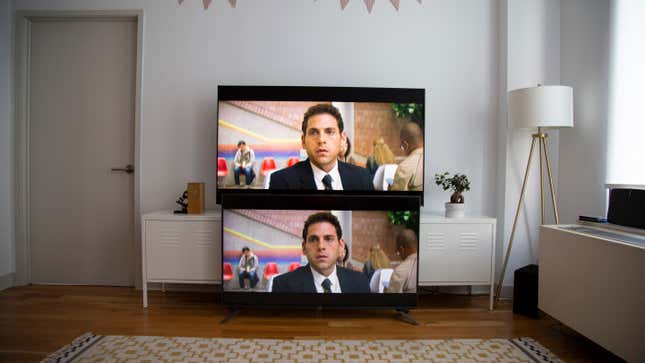 Aside from rich colors, the other big selling with P-Series Quantum is brightness. Vizio claims that the display puts out a peak brightness of 2,000 Nits. We weren't able to get those readings with our colorimeter, although we got plenty north of 1,000 Nits, which is where the regular P-Series maxes out. This is undeniably brighter than a very expensive OLED display, although we did find that the blacks on this display didn't get quite as black as they do on last year's LG B7 OLED. So by going with the Vizio LED over an OLED, you might be trading brightness for contrast, but you're also saving a ton of money. Which is to say that, in many ways, Vizio does keep its promise to deliver image quality in a $2,200 TV that's comparable with that of a TV that's twice as expensive.
That's something. The proposition also appeals to a pretty specific TV-buyer. As I've argued before, most people upgrading from an older HD TV to a 4K HDR TV will be perfectly happy with one of the many cheaper models on the market right now. Again, Vizio's standard P-Series costs $1,200 or less for a 65-inch. The TCL 6-Series, one of my favorites, is a little bit cheaper with a 65-inch costing just $1,000. (The 55-inch is even more affordable at $650.) I did test the TCL 6-Series alongside the Vizio P-Series Quantum, however, and the Quantum is the clear winner. The highlights jump out of the screen, without losing detail in the darker parts of the screen. And I did try all my favorite bright-and-dark movies in HDR with Dolby Vision: Guardians of the Galaxy Vol. 2, The Fate of the Furious 8, as well as Netflix shows like Maniac and The Haunting of Hill House. They all have their own challenges, and the P-Series Quantum bested the cheaper TCL every time.
The thing is, if you're considering spending $2,200 on a TV, you might be willing and able to make the jump up to the $2,600 OLED range. I'm not saying you should. But if you do spend that much money on a TV, you also ought to consider spending a little bit more on a professional calibration, in which case whoever does the job will be thankful to have more settings than what the P-Series Quantum offers. That calculus could change if Vizio decides to make a smaller version of the TV we tested. It only comes in the 65-inch variant now, but a 55-inch version could bring the price down closer to $1,000.
However, if you're want to get one of the best deals for a top-of-the-line LED right now, consider the P-Series Quantum. It's an absolute blast. It could be better in terms of color accuracy and calibration, but there's a good chance you wouldn't even notice the TV's few shortcomings. At $2,200, this is an expensive Vizio TV. But it's still a fantastic value.
README
An expensive Vizio can, in fact, perform like a much more expensive TV
Wide color gamut and local area dimming provide a vivid, contrasty image
Upgrading to a higher-end LED or OLED will give you a bit more picture control
Pricey at $2,200 but not as pricey as it could be