Little by little, SpaceX manages to break new ground for itself with each successive launch. Today, Elon Musk's aerospace startup will attempt to launch its second rocket within 48 hours. The launch window opens at 4:24PM EST and you can see it right here.

Friday's launch successfully sent a Bulgarian communications satellite into orbit on a used Falcon 9 rocket. Once again, the booster was able to safely land after reentry. "Rocket is extra toasty and hit the deck hard (used almost all of the emergency crush core), but otherwise good," Musk tweeted.
Though it seems like SpaceX is getting the hang of this launch-and-land thing, there are no guarantees. Today's Falcon 9 rocket is new and will use redesigned grid fins. Last night, Musk tweeted it will be, "flying with larger & significantly upgraded hypersonic grid fins. Single piece cast & cut titanium. Can take reentry heat with no shielding."
That could mean that everything is even more likely to go well, or it could mean more opportunity for a screw up. Either way, you get a disaster or something really inspiring.
G/O Media may get a commission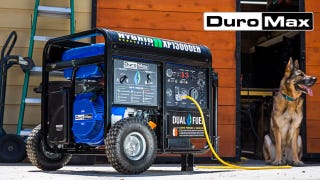 Black Friday Sale
DuroMax Generator Sale
Update 5:00PM: The initial launch was a success and the Falcon 9 rocket with new grid fins landed smoothly. SpaceX is starting to make this look easy. Musk tweeted: "New titanium grid fins worked even better than expected. Should be capable of an indefinite number of flights with no service."
About 50 minutes after the Falcon 9's touchdown, the deployment of Iridium's next generation of satellites began. Over the course of 15 minutes, all ten satellites were successfully launched into orbit.
You can see the whole sequence in the embed below.
[SpaceX]