Tron 3 and the new Daredevil movie find writers, while another legendary fantasy author might write for Doctor Who. Russell T. Davies discusses Captain Jack's big change on Torchwood, plus a new Warehouse 13 promo reveals a returning guest star!
Spoilers from here on out!
Top image from Green Lantern.
The Dark Knight Rises
It looks like Wayne Manor will definitely be back for the third movie, and it appears two stately British homes will play the part. One report says that Osterley Park, a late 18th century London estate, will be used for filming from now until July 3. According to Hollywood Chicago:
"Osterley Park is the inside of Wayne Manor for The Dark Knight Rises. Three rooms will be used: the dining room, the study and a third room we don't currently know. It was mentioned the study has a secret exit that will lead to the Batcave. We are guaranteed a sighting of Alfred (Michael Caine), Bruce Wayne (Christian Bale) and I think Selina Kyle/Catwoman (Anne Hathaway) as she's likely to be having dinner with Bruce."
Meanwhile, the Elizabeth mansion Wollaton Hall will reportedly double for the exteriors of Wayne Manor. [IGN]
---
Daredevil Reboot
Fox's reboot of its other, other Marvel superhero property has now found a writer, as Fringe producer Brad Caleb Kane has reportedly signed on to write an adaptation of the classic Frank Miller and David Mazzucchelli "Born Again" storyline. [Heat Vision]
G/O Media may get a commission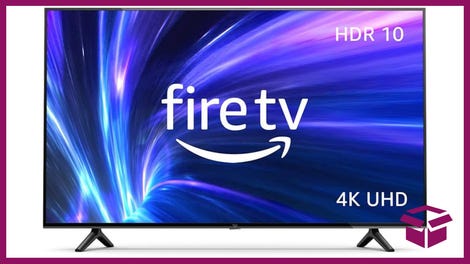 42% Off
Amazon Fire TV 50" 4K Smart TV
---
Tron 3
The Tron Legacy sequel will have a new writer, reportedly in the form of Eight Below screenwriter David DiGilio. [Heat Vision]
---
Luna
Bourne Identity and Jumper director Doug Liman's film about "renegade scientists who build a spaceship from spare parts to steal an energy source from the moon" has found a home at Paramount. Liman's casting shortlist reportedly includes Bradley Cooper, Chris Evans, and Andrew Garfield. [Variety]
---
Indiana Jones 5
Shia LeBeouf took some time out from weirdly defending Michael Bay's honor to discuss the possibility of another Indy movie:
"I talked to Harrison Ford. He said he's staying in the gym, he said he's heard no word, but he does know that George Lucas is out there looking for a MacGuffin. He said he's staying in the gym, so it means the movie is not so far off."
---
Breaking Dawn
Twilight author Stephanie Meyer will make a cameo appearance at Bella and Edward's wedding, which I can only assume means the future Mr. and Mrs. Cullen are now just inviting random diner customers to their special day. [Fangoria]
---
Doctor Who
Sure, series 6 is only half-done, but series 7 is the focus of news right now. First up, although 14 more episodes of Matt Smith's Doctor are indeed confirmed, there's some question whether all of series 7 will air in 2012. Here's the relevant quote from a BBC spokesperson:
"The new commission is a big commitment, not many other shows have such a commitment so far in advance. We do not know yet how many will air in 2012."
Apparently, a "good chunk" of them will air in 2012, whatever that means. Honestly, I'm guessing series 7 will end up airing all its episodes in 2012 just like the series before it, and the BBC is just trying to be as vague as possible. But I guess we'll just have to wait and see. [Guardian; thanks to commenter Scotchka for the tip!]
Now that Neil Gaiman has written for the show, the question is who Steven Moffat could get that could possibly top him, short of somehow resurrecting Douglas Adams (which I'm not ruling out). Well, I don't know if this would top Gaiman, but it's pretty close - the latest crazy rumor is that Terry Pratchett might write an episode next series. This all comes from a series of tweets that Pratchett sent out, seemingly unprompted, in which he very explicitly denied meeting with Steven Moffat to discuss a top-secret project...which, you know, seems like a strange thing to randomly deny. So yeah...it's probably nothing, but we might want to pay attention to this one. [Doctor Who Spoilers]
---
Torchwood: Miracle Day
Russell T. Davies discusses Captain Jack Harkness's newfound mortality:
Well he's literally, physically different. He's mortal. Everyone else is immortal, he's mortal. It's the biggest switch in the show, which we did in order to give us new insights into Jack. I appreciate what you're saying, that he's a different character. I think that's my job. I [there can be] a great passivity and inertia when it comes to characters on shows that are successful — they keep coming back and they keep being the same. I'd much rather change them...

It's part of the story, but the greatest thing you can do is offer a new look into the character. It's not fundamentally altering the character, it's fundamentally altering the rules — the character stays the same, that's the glorious thing. [The idea is to] put them in situations where there are new rules, new trials, new victories, new losses, and see who they are, that's the point. That's what they're there for, these fictional people.
[AOL TV]
---
True Blood
Here's a sneak peek at the first six minutes of season four. [On the Red Carpet]

Marshall Allman explains his character Tommy Mickens's enduring affection for Jessica:
"There's just something about the first vampire that you get the hots for. He still has a big crush on Jessica. But how that plays out...I don't know, but Tommy will forever-that's his first crush. She's hot. Superhot vampire. He could meet a new hot person, but there's just something about that first vampire that you get the hots for."
Here are some assorted spoilers for season four from TV Guide:
On a show where the term dead is, to say the least, fluid, we'll discover yet another permutation when we witness a chilling resurrection. Tara has a new 'do - and a hilariously entertaining new job. And if I were to tell you that the hottest human-vampire couple among the Bon Temps faithful is no longer Jessica and Hoyt, would you be as sad as I am? Eric wouldn't be.
[TV Guide]
Other spoilers include an "unlikely romance", some key real estate news, a big dinner between Jessica and Hoyt, and Sam nearly exposing himself. Also, Evan Rachel Wood's Sophie Anne has a crucial role in what will likely be a fairly memorable scene. [TV Line]
---
The Walking Dead
Neil Brown Jr. discusses the evolution of his character, the janitor Guillermo:
Originally, my character was an extra. Frank and Robert ran with the idea of having a boss, somebody leading it. It was awesome 'cause Frank kept sending over script pages in the middle of the night with more dialogue...Most people, as tough as they seem, retreat. I'm like, "Retreat? Hell, I just got here." Fight or flight. The doctors were out. He's just a janitor but he's the guy who is going to fight. You mix morals with a guy who can fight back and you got a real leader. If he doesn't know what to do, he's going to find someone who does."
[AMC]
Here's a set photo from season two. [SpoilerTV]
---
Terra Nova
Here's a new promo.

---
Supernatural
Executive producer Sera Gamble discusses the reaction to Misha Collins's move from starring role to recurring, as well as where the show stands with Jim Beaver:
"We have passionate fans. We have fans that have strong opinions about a lot of things that happen on the show. People ask me if I'm worried about a fan backlash [in the wake of Collins's demotion]. We just want to tell a good story and not be redundant and bring you interesting stories that are fresh. Going into Season 7, we have a new, interesting story that we want to tell to you. That's what's front of mind right now...We have a fantastic relationship with Jim [Beaver]. We bring him in as the story demands it. He's basically a fixture on the show as necessary."
[TV Line]
---
Warehouse 13
Here's a promo video for season 3, which among other things reveals another Eureka crossover in the form of a Fargo guest appearance.

---
Alphas
Here's a promo video for the show, which doesn't show any footage but indicates how the characters' powers might reveal themselves. [BuddyTV]

---
Additional reporting by Katharine Trendacosta and Charlie Jane Anders.