The Carr Fire is in the record books as one of California's largest and most destructive fires. But it will also forever live in nightmares for unleashing one of the most terrifying spectacles on Earth in the form of a firenado.
On Wednesday, CAL FIRE released three new videos that show the firenado ripping through the Northern California countryside on July 26. The state fire agency also announced that a local fire inspector was killed by the fiery winds.
The videos were captured on the ground and from the air by CAL FIRE and local fire departments. They reveal vegetation burning red hot and a tight column of smoke, fire and ash spiraling higher into the sky in what looks like a scene straight out of a horror movie right before a portal to hell opens.
But no, this is life on Earth, a reminder that our planet is capable of spinning up terrifying meteorological events all on its own. We know that vegetation burned at incredibly high temperatures, causing air to rise and rotate. And scientists estimate that those firenado winds reached 143 mph, the equivalent of an EF-3 tornado, and spanned an area as wide as three football fields on the ground.
But while we know the outlines of what caused it and how serious the damage was, there's also a ton of open questions about the firenado. That's because we have precious few examples to compare it to and glean data from. With a paucity of examples and research to draw on, scientists are going to be studying the conditions and aftermath of the Carr Fire firenado for a long time in an attempt to better understand just what happened.
G/O Media may get a commission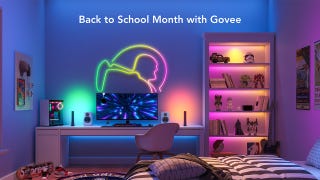 Back to School
Back to School Month with Govee Sale
The Carr Fire continues to burn, though firefighters have gotten a much better grip on it since the fateful night it tore into the small city of Redding in late July. As of Thursday, the fire was 71 percent contained after charring 214,527 acres, which puts it at the eighth-largest wildfire in state history. But the toll it's taken has been steep. At least eight have perished, including three firefighters battling the blaze. It has also destroyed 1,599 structures, making it the sixth-most destructive fire in California history.