Angely Mercado covers climate change for Gizmodo. She has written stories about the megadrought in the American West, how California celebrities guzzled water in 2022, and reports of mass tree deaths. She hopes to write more positive climate news in 2023.
The top story:
Don't be fooled by the massive storms and floods hitting California right now: The U.S. (and California in particular) was pretty damn dry in 2022, and it's likely that 2023 will be another dry year.
The American West has wilted under a megadrought —the worst drought that region has seen in over 1,000 years. Scientists have connected this drought to rising temperatures that have been partially fueled by human activity. The Colorado River, which provides water to seven states and about 40 million people, has seen dwindling water levels for years, but things got really bad in 2022. Reservoirs along the river, like Lake Mead and Lake Powell, have seen historically low water levels, receding so badly that several sets of human remains were found at Lake Mead.
The drought is affecting other rivers too. The Mississippi River, which is a crucial shipping waterway, hit the lowest water levels in a decade in 2022. This caused traffic jams because shipping barges ran aground in the river. Ships have also had to carry less weight in order to traverse the waterway. Some recent rainfall has improved levels in the Mississippi, but water levels are still low in early 2023.
G/O Media may get a commission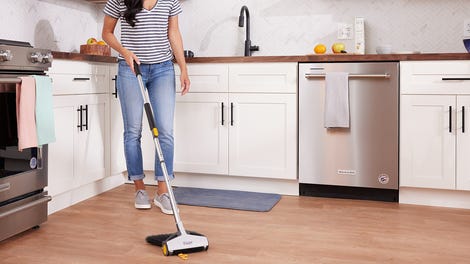 BOGO 50% Off
Flippr - BOGO 50% Off
The water shortages have given people more fodder to hate celebrities: If you thought a bunch of rich people singing "Imagine" during initial covid lockdown was annoying, learning about their water wasting habits has been infuriating. This is especially true for California residents who had to answer to the LA water police this past summer. Meanwhile, Kourtney Kardashian went more than 200% above her allotted water budget last spring.
What we're waiting for:
Unconventional wisdom:
A few winter storms may help alleviate some of the dry conditions out west, but this may not make a large dent in the current drought. Take this fall for example. A November storm helped end the fire season in Northern California, and it supported especially parched ecosystems in the state, but it did not end the severely dry conditions in the state, the New York Times reported.
These past few weeks are another great example: atmospheric rivers have created several winter storms over California since late December. They've dumped rain and snow over the state, boosting the snowpack. But state officials have explained that this doesn't mean the snow will stick around. "This is a prime example of the threat of extreme flooding during a prolonged drought as California experiences more swings between wet and dry periods brought on by our changing climate," California Department of Water Resources Director Karla Nemeth recently said in a press release.
People to Follow:
Camille Touton, the U.S. Bureau of Reclamation commissioner - Touton was sworn in as the commissioner of the Bureau in 2021 and has extensive experience in water management and managing other natural resources in the country. She's worked for the U.S. Senate Committee on Energy & Natural Resources and. Touton also worked as the Deputy Assistant Secretary for Water & Science in the Department of the Interior, which oversees the Bureau.
Sean de Guzman, manager of Snow Surveys and Water Supply Forecasting - Guzman is one of the leaders at the USDA's Snow Surveys and Water Supply Forecasting agency, that measures the snowpack at the Phillips Station near Lake Tahoe in California.
Sharon B. Megdal, director of the Water Resources Research Center at the University of Arizona - An expert on water management policy, she has been quoted in the New York Times on water shortages along the Colorado River in 2021.
Agencies to watch:
Bureau of Reclamation- This government agency is responsible for delivering reliable water access and hydroelectric power to the American West. This is the department that has created hundreds of dams out west including the Hoover Dam on the Colorado River. It is also the second largest producer of hydroelectricity in the country, overseeing 53 power plants that power over 3 million homes. The ongoing drought challenged the Bureau's mission to get hydroelectric power and water to residents out west in 2022.
Metropolitan Water District of Southern California- This is the largest provider of treated water in the entire country, serving 19 million residents. The agency declared a drought emergency at the end of 2022. It draws most of its water from the Colorado River, and if mandatory water restrictions are put into place to further lower water usage, it will affect all 19 million people served by the Water District.
NOAA- The National Oceanic and Atmospheric Administration regularly releases predictions on upcoming conditions like drought. This agency also releases reports on how weather patterns in the country will be affected by El Niño/La Niña.
A longshot bet:
The Mississippi River and the communities along the river will start to recover from the ongoing drought. Recent rainfall has sparked some hope for marina managers around Memphis, Tennessee according to WERG News. But the parched river basin will need more several rainfall events to support enough water for all of the states across the river. It will definitely help, but it won't be a quick recovery. Cruise ships may still run aground and some marinas along the river will still see low water levels come this summer.
California will continue to see some drought recovery from these past weeks of winter storms that have dumped rain and snow onto the state. In December 2022, about 7% of the state was experiencing exceptional drought according to the U.S. Drought Monitor. As of this month, no part of the state is under exceptional drought. But it's too early to say just how long the current stream of storms will alleviate drought conditions out west.