George Clooney made a surprise visit to the New York Comic Con panel for Tomorrowland just to cajole Damon Lindelof and Brad Bird to show extra footage. And what they played was really intense.
The teaser trailer showed main character Casey (Britt Robertson) receiving a Tomorrowland pin that transported her briefly to another world. The next sequence we saw had her going to the isolated house of Clooney's Frank Walker, an inventor who activates some sort of device that pushes her away from the door. Casey says she wants to go to wherever she saw in the pin, since she feels like she belongs there. Walker informs her that she's been manipulated to feel that way, and he's angry about it—like it's exactly what happened to him.
Casey refuses to leave and stays on his doorstep through the night and rain, while Walker says he could call the police at any time. Eventually, she gets inside and locks Walker outside, using his device back at him.
This lighthearted battle doesn't last long, as some people show up to attack Walker. There's a chase through the house and these new arrivals have some very futuristic technology, cutting through the wall with a laser weapon. One corners Walker and says, "Frank Walker, on the orders of the governor"—and Casey bashes him in the head with a baseball bat.
G/O Media may get a commission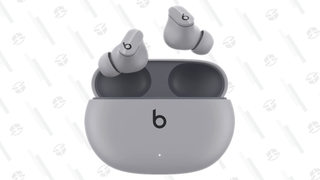 Instead of causing the usual unconsciousness, the bat forces this guy's face to warp inward. Casey keeps hitting the fellow with the bat, to the point of comedy, but also his body throws up sparks, revealing these intruders to be hyper-realistic robots. Are they law enforcement sent from the governor of Tomorrowland? Walker's anger at the place does hint at a bad past.
From there, Walker and Casey run into a bathroom, where Walker tells Casey to get into the bathtub, which is apparently an escape of some kind.
It was an exciting scene, and hinted at the larger mythology the film has developed. Damon Lindelof and Brad Bird suggested that Casey was recruited because she needed the pin. Lindelof was also willing to say that the pin came from someone called Athena, but that no more details about that would be revealed. The young actress who plays Athena, Raffey Cassidy, was unsure what she could say; Athena wasn't really evil, but wasn't wholly good either. After coaching from Lindelof, she did reveal that Athena knows kung fu.
Also on hand was Hugh Laurie, who said that he played a "good character." And that was really all that he was willing say about the plot or his character, David Nix. As for the main character of Casey, Robertson said that she was 17, in high school, and clearly not in the best place, since she's in a police station in the teaser.
Once Clooney surprised the room with his appearance, he didn't say much about his character either, other than to complain about how little he was in the teaser. (Since only he and Robertson were in it at all, I wonder how the other castmembers felt.) Clooney also pointed out that he was spending his honeymoon at Comic-Con, before commencing the push to show the footage we then saw.
What we saw was pretty impressive, whetting the appetite to see more of the futuristic world glimpsed briefly in the teaser and hinted at by the home invaders in the other clip. What little we've seen, with Casey in a field, with the city in the distance, has a very Wizard of Oz feel. And nothing we've seen yet ties the Disneyland/Disneyworld Tomorrowlands into the film, although we know the crew filmed there and that there are scenes from the 1964 World's Fair being recreated at both the It's Small World ride and other locations. There's so much going into Tomorrowland and what little's been released has answered very few questions.