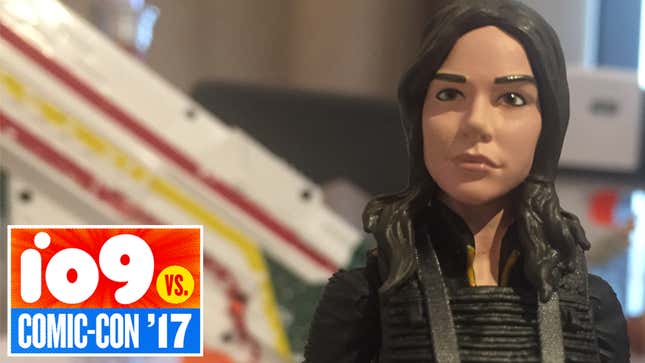 Comic-Con isn't just the home of amazing exclusive toys that you have to line up for hours to get even a chance of getting—it's also home to toys you'll be able to spend a great deal of money on in the near and distant future! We stopped by Hasbro's annual breakfast preview to see what was on the way for Star Wars and Marvel.
Twitter Is Shifting Right | Future Tech
Out in force for Hasbro this year were both its line of 6-inch Star Wars figures, the Black Series, and the Thor: Ragnarok wave of similarly sized Marvel Legends toys. Kicking off with Star Wars, we got our best look yet at some of the Legends-inspired action figures first revealed at Star Wars Celebration earlier this year—Grand Admiral Thrawn, who is both a lavish exclusive at Comic-Con and a standalone figure due for wider release later, and fan poll winner Jaina Solo, one of the rare few non-canon figures produced since Disney's acquisition of Star Wars.
Representing the movies were Luke and Rey figures from Star Wars: The Last Jedi, part of a newly-revealed two-pack for the convention—the first figures revealed for the movie.
But in a surprise twist, there's not one, but two different Reys on the way: there's the one in her Jedi Training gear from The Last Jedi, and one in her "Resistance" outfit from the end of The Force Awakens. Presumably they'll all be available later this year as part of the endless oncoming sea of The Last Jedi merchandise.
Elsewhere for Star Wars, there was another good look at the brand new Forces of Destiny dolls, being released to accompany the ongoing web short series. Two different versions of Rey, Rebels' Sabine Wren, Rogue One's Jyn Erso, an Empire Strikes Back Hoth Leia, and an outstandingly fluffy Chewbacca make up some of the first dolls of the line.
And, for all you Poe Dameron fans out there, a new replica of his X-Wing helmet that yes, will fit on your adult-sized head.

Meanwhile in the land of Marvel, Hasbro let press get up close to its incoming Thor: Ragnarok figures which will release this fall to tie into the movie. While the full wave will include figures from the comics—including the Jane Foster version of Thor—the draw for movie fans in the wave will be figures of Loki, Hela, and Thor as they appear in the film. Collecting a full set will let you build a ginormous figure of the Hulk in his gladiatorial armor, to boot.

Honestly, Hela might be the best figure of the lot, though. We've seen a picture of her figure with her ridiculously unpractical helmet on before, but now we've got our best look yet at the unmasked version, which is a pretty good likeness of Cate Blanchett at her most goth-villainess.
That helmet's still pretty damn rad though.
Hasbro's big toy panel at the con is tomorrow, so we can expect even more big toy reveals from the world of Star Wars and Marvel as Comic-Con rolls ever onwards.