On Thursday, federal regulators announced that they were slapping Wells Fargo with a $100 million penalty after discovering employees created hundreds of thousands of bank accounts and credit cards in customers' names without their knowledge, costing account holders an estimated $2.5 million in fees.

According to the Consumer Financial Protection Bureau, 5,300 Wells Fargo employees have been fired for using "improper sales practices," which included transferring customers' funds into newly created, unauthorized accounts to meet incentivized sales goals. In other cases, employees secretly applied for credit cards, signed up for online banking and activated debit cards in customers' names.
In a 2013 L.A. Times story credited with first uncovering the scheme, former Wells Fargo employees claimed that managers coached workers on how to artificially raise sales numbers to meet the "relentless pressure" of sales quotas:
"They'd just tell the customers: 'You're getting a credit card,'" [former banker Erick] Estrada said. He admitted to opening unneeded accounts, though never without a customer's knowledge, he said.

When customers complained about the unwanted credit cards, the branch manager would blame a computer glitch or say the card had been requested by someone with a similar name, Estrada said.

One former branch manager who worked in the Pacific Northwest described her dismay at discovering that employees had talked a homeless woman into opening six checking and savings accounts with fees totaling $39 a month.

"It's all manipulation. We are taught exactly how to sell multiple accounts," the former manager said. "It sounds good, but in reality it doesn't benefit most customers."
G/O Media may get a commission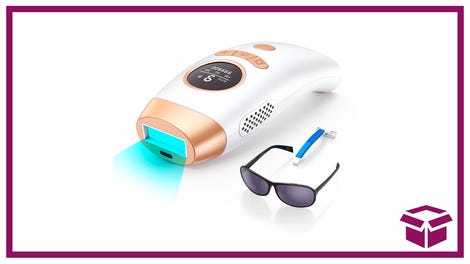 58% Off + Coupon
IPL Hair Removal Device
"This widespread practice gave the employees credit for opening the new accounts, allowing them to earn additional compensation and to meet the bank's sales goals," said the CFPB in a press release. "Consumers, in turn, were sometimes harmed because the bank charged them for insufficient funds or overdraft fees because the money was not in their original accounts."
An analysis commissioned by Wells Fargo found that some 1,534,280 deposit accounts and 565,443 credit card applications may have been created without customers' knowledge since 2011.
In addition to the $100 million fine—the largest handed out by the CFPB since it was created after the 2008 financial crisis—Wells Fargo has agreed to conduct a comprehensive, independent review of sales practices and pay refunds to all affected customers, who will not be required to take action. At least one former financial regulator, however, questioned whether the penalty was large enough for a bank worth over $250 billion.
"It sounds like a big number, but for a bank the size of Wells Fargo, it isn't really," David Vladeck, the former director of the Federal Trade Commission's Bureau of Consumer Protection, told CNN.
In a statement on Thursday, Wells Fargo said it has set aside $5 million for refunds to customers, 100,000 of whom have already been repaid.
"Wells Fargo is committed to putting our customers' interests first 100% of the time, and we regret and take responsibility for any instances where customers may have received a product that they did not request," said the bank.
[CNN]