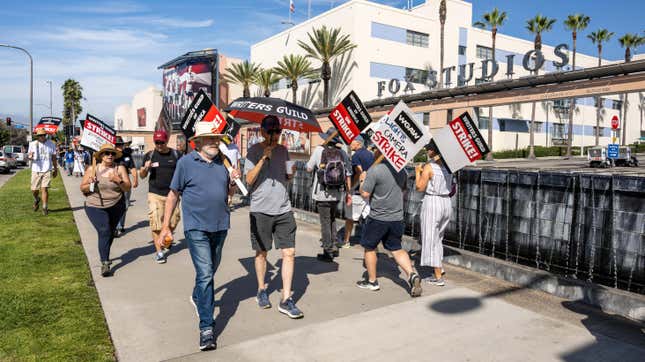 After a week of back-and-forth between the Writers Guild of America and the Association of Motion Picture and Television Producers, the public got a look at the latest offer from the AMPTP. However, it was released yesterday to industry trades after about ten days of push and pull with the guild—who say the tactic was used in a blatant attempt to convince the public that the WGA is prolonging the strike unreasonably, which is not the case.

Meet Microsoft's New Surface Laptops
While the counteroffer does offer some concessions, the WGA released a statement stating that after accepting an offer to meet in good faith on Monday, they were instead met with "a lecture about how good [the AMPTP's] single and only counteroffer was."
"But this wasn't a meeting to make a deal. This was a meeting to get us to cave, which is why, not twenty minutes after we left the meeting, the AMPTP released its summary of their proposals [to the press]," the statement reads in part. "This was the companies' plan from the beginning–not to bargain, but to jam us. It is their only strategy–to bet that we will turn on each other."
Obviously, this is a crappy negotiating tactic even in the best of situations—especially so after nearly 115 days on the picket lines. If the AMPTP is serious they can negotiate, not offer ultimatums over half-baked proposals. The WGA stated that after receiving the offer and sitting through a lecture, "we explained all the ways in which their counter's limitations and loopholes and omissions failed to sufficiently protect writers from the existential threats that caused us to strike in the first place."
Skimming the proposal, it does seem like the AMPTP has come up on monetary compensation, but has not done enough to address the underlying issues that are prevalent in the industry that necessitated this unprecedented moment of labor solidarity in the first place. Writer's room minimums are unaddressed, the "generated artificial intelligence" position is weak, and releasing numbers related viewer transparency is still not clearly laid out. The WGA said that they will release a full statement on the counteroffer's failings on August 23.
"Tomorrow we will send a more detailed description of the state of the negotiations," the WGA's statement concludes. "And we will see you all out on the picket lines and let the companies continue to see what labor power looks like."
---
Want more io9 news? Check out when to expect the latest Marvel, Star Wars, and Star Trek releases, what's next for the DC Universe on film and TV, and everything you need to know about the future of Doctor Who.