The first thing that I should say about FORPHEUS is that it's gentle. The artificially intelligent Ping-Pong tutor built by Omron is not trying to beat you. It's not trying to take over the world. FORPHEUS is trying to make you a better Ping-Pong player. I played Ping-Pong with this incredibly futuristic being, and not only do I feel like a better Ping-Pong player. I feel better about the potential for a robot-led future.
FORPHEUS appeared at CES in Las Vegas this week not as something you'll soon be able to buy, but as a performer of sorts. Put bluntly, Omron builds a lot of incredibly futuristic technology that's often concealed from view—in factories or in cars or really anywhere that needs an injection of futuristic tech. The company built FORPHEUS to serve as a fun way to showcase its various breakthroughs, including artificial intelligence, robotics, and sensor technology. I'll be the first to say that the Ping-Pong robot is fun as hell.
Playing table tennis with FORPHEUS reminded me of that iconic scene in Forrest Gump, when the not-stupid hero is training in the Army hospital. The major difference is that I'm not that good at Ping-Pong, so the robot adjusted to my speed. In the beginning, we started a slow and steady volley. As I warmed up and gained confidence, FORPHEUS pushed me harder, and the game sped up. FORPHEUS knew how I was doing not only by how often I made the ball go over the net. The sensors on the top of the robot were actually watching my face and interpreting my expressions. Smile means fun. Frown means struggle.
What I didn't expect from the Ping-Pong robot was mercy. Omron intentionally built FORPHEUS to focus on improving the human player, not to defeat him. So there were not trick shots or crazy spins. (The robot is still learning how to spin.) The experience was a rather calming and aerobic exercise in improving my game. In many ways, I liked playing Ping-Pong with FORPHEUS better than playing with my friends. No trash talk, always returns the volley, doesn't get tired.
This is the optimistic outlook for robotics and artificial intelligence that Omron was going for when it built FORPHEUS. Frankly, I'm into it. The company was also showcasing some industrial applications of its technology, things like eye tracking that lets a car know when the driver is getting tired and high-speed sorting robots that won't chop your hand off if you get in its way. The robots are here to help us, the company insists. After all, we made them.
G/O Media may get a commission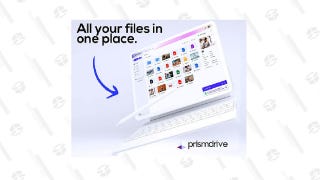 Save 97%
Prism Drive Secure Cloud Storage: Lifetime Subscription
We're in Las Vegas at CES 2018! Click here to read our complete coverage.