Despite the recent update that was supposed to fix it, the iPhone Batterygate continues: Many users in the Apple Support forums are reporting that the iPhone 4S battery keeps dropping fast and inexplicably. But there are other problems too.
Updated: We've added new reports to the article. Please keep posting them in the comments.
Users who were experiencing the inexplicable battery drainage are still seeing the same problems. There are multiple reports in the Apple Support forums. Here are some.
New update is not help at all. I opened Safari and lost 2% just by opening it.
Upgraded to 5.0.1 this morning. Still draining at the exact same rate. [...] I see no difference at all.
Same here. Updated about 1.5 hours ago, battery has drained 20% since then with no usage!
G/O Media may get a commission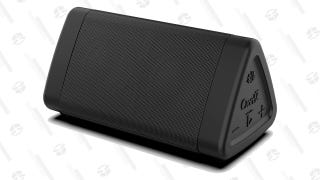 Save 31%
Oontz Angle 3 Portable Bluetooth Speaker
Gizmodo readers are reporting similar problems:
@IamRickB: my battery has drained 40%/2hr
@unsulk: I stand corrected. My 4S battery is draining 1% every 3-4 mins under light use. It was fine before the 5.0.1 update.
The same reader later added in another tweet:
The battery dropped from 100% to 89% without ANY use on my 45 minute drive to work.
Meanwhile, other users are experiencing problems downloading applications over the air with iOS 5.0.1:
Wow, can't even download apps OTA on iOS 5.0.1...apple just committed a major #chansefail anyone else having this issue?
Another Gizmodo user echoes these updates troubles:
@DurrtyNathaniel: My iPhone hasn't completed a sync since I have upgraded to either of the iOS 5 updates. It's so annoying.
Another Gizmodo reader confirms the battery issues plus a couple others:
@gemmasolutions: Battery issue persists with 4S iOS 5.01. Since update, have a problem with apps not sending (iMessage) or loading (App Store) data!
It seems that something is definitely wrong with this update. Too many reports of users having battery problems. Perhaps Apple's first usage of the over-the-air updating may be bumpier than we expected.
Definitely, the iPhone battery drainage seems to be a problem still. Are you experiencing the same problems? Do you have other problems? Tell us in the comments. [Apple Support via 9to5]