There's casting news for Game of Thrones and Supernatural, hints of exactly when in 2015 Star Wars: Episode VII will be released, and Chris Pratt talking about Vin Diesel as Groot. Plus, does a BBC book hint how, exactly, John Hurt's character fits into "The Day of the Doctor"?
Star Wars
Dutch Disney exec Dennis Darby may have accidentally let slip on Twitter that Episode VII will be released at the end of 2015. He later both confirmed that this was the "plan," but also walked it back, saying that plan could change:
#StarWars,Saw today some awesome first features/plans of new StarWars 7 movie coming end 2015. #Disney studio role out.

@Corax78 at this moment it is planned for end of CY15 but in the entertainment business you will never know. Might be some changes there
Barbie works in retail, and not the actual studio side, but his position would know when it was being released in order to plan the release of merchandise and so forth. [Slashfilm]
---
X-Men: Days of Future Past
Michael Fassbender told Empire that he'll be doing a different accent this time. And by "different accent," he means that he's going to be doing his best Ian McKellan this time:
I hope it's not too much of a weird switch, but in the first one it was a concern for me..and I actually kind of wish I did this [accent] the first time. Because at the beginning I was studying McKellen and doing that cadence...But Matthew kind of liked my accent and my rhythms...But on this one I listened to McKellen constantly. I had him on my iPhone all the time.
G/O Media may get a commission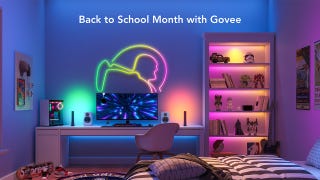 Back to School
Back to School Month with Govee Sale
---
Chronicle
Max Landis isn't on board for the sequel anymore, but he had ideas. He knew exactly what the source of the kids' powers was: Massive Organic Geoelectric Objects, described as:
a race of crystalline organisms that communicate and propel themselves through radio waves, and turn higher life forms into telekinetic drones.
He also described his plan for the sequel:
two embittered souls as antiheroes trying to catch the survivor of the first film
---
The Guardians of the Galaxy
Here's an interview with Chris Pratt talking about Vin Diesel as Groot:
---
Thor: The Dark World
Here's a "critics" TV spot:
---
Hourman
We probably have Arrow to thank for the fact that the CW's developing a new series based on a DC character. Hourman, a character who can see visions of terrible things that will happen one hour in the future, is the network's next project. [TV Line]
---
Game of Thrones
Yuri Kolokolnikov has been cast as Styr, leader of the warlike Thenn tribe from beyond the wall. [Entertainment Weekly]
---
Doctor Who
In June, the BBC published a book called Who-ology: The Official Miscellany. While it wasn't written after the season finale "The Name of the Doctor" aired, that episode's script was probably finished at the time. Which means that the description of the reason for the Eighth Doctor's regeneration as "Unknown. So far. . ." may be a hint about what part John Hurt's role is going to reveal. Or just something slipped in for fun. One of the two. [Den of Geek]
---
Helix
A press release from SyFy gives a description of Ronald D. Moore's new show and tells us that the premiere will be on January 10:
SYFY'S NEW SCRIPTED THRILLER HELIX DEBUTS FRIDAY, JANUARY 10 AT 10 PM

NEW YORK – November 5, 2013 – Syfy's newest original scripted series Helix will launch Friday, January 10 at 10PM (ET/PT). Repeats of the premiere will air continuously on Syfy all-day Saturday, January 11 until 10PM (ET/PT).

Executive produced by Ronald D. Moore (Battlestar Galactica, Outlander), Steven Maeda (Lost, The X-Files) who is also showrunner, and Lynda Obst (Sleepless in Seattle, Contact), the 13-episode drama stars Billy Campbell (The Killing, Killing Lincoln) and Hiroyuki Sanada (The Wolverine, 47 Ronin).

Helix is an intense thriller about a team of scientists from the Centers for Disease Control who travel to the high-tech research facility, Arctic BioSystems to investigate a possible disease outbreak, only to find themselves pulled into a terrifying life-and-death struggle that may hold the key to mankind's salvation or total annihilation. However, the lethal threat is just the tip of the iceberg, and as the virus evolves, the chilling truth begins to unravel.

Campbell stars as Dr. Alan Farragut, leader of the Centers for Disease Control outbreak field team called upon to investigate and control a potential outbreak. Sanada also stars as Dr. Hiroshi Hatake, director of Arctic BioSystems and its mysterious viral research program.

Helix also stars Kyra Zagorsky (Supernatural) as Dr. Julia Walker, Mark Ghanimé (Emily Owens, M.D.) as Major Sergio Balleseros, Jordan Hayes (House at the End of the Street) as Dr. Sarah Jordan, Meegwun Fairbrother as Daniel Aerov, Catherine Lemieux (White House Down) as Dr. Doreen Boyle and Neil Napier (Riddick) as Dr. Peter Farragut.
---
Almost Human
From The Hollywood Reporter comes this description of the premise:
The series is set 35 years in the future, 2048, and focuses on a very futuristic, unrecognizable Los Angeles and Det. John Kennex (Karl Urban, Lord of the Rings, Star Trek), who is just returning to the police force after nearly being killed in an ambush.

Kennex was devastated by the attack, losing a partner, a leg and suffering a deep depression that, to this point, has all combined to keep him off the force. But he's back, mostly with the help of Capt. Sandra Maldonado (Lili Taylor), who believes someone is leaking information to a deadly renegade group called The Syndicate, which is terrorizing the city and which was responsible for the attack on Kennex.

In this modern world, the cops are losing the battle against outside forces. For some time now, the department has been using robotic or android partners. Upon his return, Kennex is teamed up with the latest model, the MX-43, which not only can spout endless amounts of information like a computer, but lacks emotional elements that undercut the previous, now-discontinued version of the robots.

Naturally, Kennex is not keen on the robots — especially since they tend to probe him for weaknesses they can report. Also, Kennex is rejecting his synthetic leg for reasons we're not quite sure of. And faster than you can say "annoying android," Kennex has pushed his bot partner out of the car because it knows he might be getting illegal drugs off the black market in a dangerous part of town.
Here are the descriptions of the first two episodes from Fox:
In the "Pilot" episode of ALMOST HUMAN, airing on the first night of the special two-night series premiere Sunday, Nov. 17 (8:00-9:00 PM ET/PT), it's the year 2048, and an unprecedented increase in the crime rate requires every police officer to partner with an android. John Kennex (Karl Urban), a detective and sole survivor of a devastating police ambush, and his new robot partner, Dorian (Michale Ealy), set out on their first mission to solve a crime and protect innocent people from the dangerously evolved criminals in this futuristic landscape.

In "Skin," airing on the second night of the special two-night series premiere Monday, Nov. 18 (8:00-9:00 PM ET/PT), Kennex and Dorian investigate a murder and high-profile missing persons case that leads them into the highly profitable world of IRCs – Intimate Robot Companions – also known as sexbots. Meanwhile, Kennex looks to reconcile a part of his troubled past.
---
Person of Interest
Showrunner Greg Plageman said that the writers already know how the show will end. He also talked about how Detective Carter will be changing over this season, telling Taraji P. Henson:
We always saw your character as the moral compass of the show. You've actually up to this point been the least gray character in terms of understanding where she's coming from and what she believes about right and wrong whereas Reese has done some stuff. What's becoming interesting about her character now is in the vendetta she has against HR is putting her out on a limb and you have Elias in a basement and we would never have seen that from Carter in the first season. She's been doing some desperate things.
Carter's old partner will also be in deep water, according to Kevin Chapman:
Fusco's swimming in a tank full of HR. He's the only one left at the precinct. Carter has been demoted. Fusco knows that Carter is out for revenge for the loss of her boyfriend. I think the relationship the dynamic has changed. I think Fusco has a level of unpaid gratitude to Carter for her support at the end of Season 2 when things got real dark for Fusco, and we weren't quite sure that he was going to make it to the other side."
More at the link. [Comic Book Resources]
---
Grimm
Episode 3.10 will be called "Eyes of the Beholder" and Episode 3.11 will be called "The Good Soldier." [SpoilerTV]
---
The Originals
Executive Producers Julie Plec and Michael Narducci gave some hints as to what the upcoming crossover with the mother show will look like. Haley and Tyler will find themselves in New Orleans, and Plec said:
I can say that the crossover's happening very soon, that it will answer a couple questions, one of which is at least answering the first piece of the mystery of the protective wolf.
Julie also confirmed that it'll be coming sometime in November. Narducci elaborated on the plot, saying:
It will also introduce a lot more questions. A lot of things will come out of that crossover that are going to shake things up within the core dynamic of the Original family, and there will be a whole storyline that will come out of where that crossover leads them, geographically, and what they discover when they're there, so there's a lot of stuff that's about to be introduced.
More at the link. [K Site TV]
Below is a new poster. [SpoilerTV]
---
Supernatural
Via Twitter, Timothy Omundson will be guest starring. He didn't reveal the character or episode title, but he says it's "a hell of a role. It will be the episode written by Robbie Thompson and directed by Jon Badham. [SpoilerTV]
---
Atlantis
Here's the description of episode eight, "The Furies":
Blood ties and past lies prove a fatal mix when Pythagoras's brother joins the gang to escort a precious cargo across the desert.

The boys gain an unexpected addition to their workforce with the arrival of Pythagoras's feisty younger brother, Arcas (Will Merrick).

Charged with escorting a valuable cargo across the desert, the gang travels into the unknown with a ramshackle caravan of strangers. It isn't long before their journey takes a decidedly spooky turn; after spending a night in a temple dedicated to The Furies, it soon becomes clear that one among their number has something to hide.

As danger closes in and a dark secret is exposed, our heroes are forced to confront some uncomfortable truths as they fight for their lives under the desert sun.
Go here for a full set of photos from episode seven, "The Rules of Engagement." [SpoilerTV]
---
Once Upon a Time
Here's the official description for episode 3.07, "Dark Hollow."
"Dark Hollow" – Mr. Gold and Regina send Ariel back to Storybrooke with an item that will allow Belle to locate a hidden artifact that could help take down Pan. But unbeknownst to them, two men have broken into the town with the intent to stop them – at all costs. Meanwhile, Emma, Neal and Hook attempt to find Dark Hollow, where Peter Pan's shadow dwells, in order to capture it, and Mary Margaret is upset with David for keeping his poisoning a secret from her, on "Once Upon a Time," SUNDAY, NOVEMBER 10 (8:00-9:00 p.m., ET) on the ABC Television Network.

"Once Upon a Time" stars Ginnifer Goodwin as Snow White/Mary Margaret, Jennifer Morrison as Emma Swan, Lana Parrilla as the Evil Queen/Regina, Josh Dallas as Prince Charming/David, Emilie de Ravin as Belle, Colin O'Donoghue as Hook, Michael Raymond-James as Baelfire/Neal Cassidy, Jared S. Gilmore as Henry Mills and Robert Carlyle as Rumplestiltskin/Mr. Gold.

Guest starring are Lee Arenberg as Leroy/Grumpy, Keegan Connor Tracy as Mother Superior/Blue Fairy, Raphael Sbarge as Dr. Hopper/Jiminy Cricket, Beverley Elliott as Granny, David-Paul Grove as Doc, Gabe Khouth as Sneezy, Faustino Di Bauda as Sleepy, Jeffrey Kaiser as Dopey, Michael Coleman as Happy, Mig Macario as Bashful, Robbie Kay as Pan, JoAnna Garcia Swisher as Ariel, Rose McIver as Tinker Bell, Peter Croft as Felix, Freya Tingley as Wendy, James Immekus as keychain and Matt Kane as glasses.

"Dark Hollow" was written by Kalinda Vazquez & Andrew Chambliss and directed by Guy Ferland.
---
Sleepy Hollow
Episode eight has been renamed. It's now called "Necromancer." [SpoilerTV]
---
Beauty and the Beast
Episode 2.08 will be called "Man or Beast?" [SpoilerTV]
Additional reporting by Charlie Jane Anders and Emily Stamm