Uber's just plunked down a load of cash on the future of self-driving car tech. The company just ordered 100,000 Mercedes S-Class vehicles, according to German business magazine Manager Magazin.
Update: Reuters reports that other anonymous sources are refuting the claim yet the original report cites sources within both companies. Either way, it seems Uber is looking around but for now, the order and the exact number remain a rumor.
Why Mercedes? The German company's interested in going head-to-head with Google on the autonomous driving future. A Bloomberg Business report last summer detailed Mercedes' renewed focus on putting self-driving technology in its luxury "E-Class" vehicles. In 2013, Mercedes said that its fully autonomous S-Class vehicles would be ready by 2020. According to this new report, the time table hasn't changed.
Before that, Mercedes had been working with Nokia on building 3D smart maps and it doubled down on the idea when Diamler, Mercedes' parent company, along with BMW and Audi, jointly purchased Nokia's digital mapping company Here. At the time, they explained that the purchase would help create "highly automated driving." This deal reportedly has some conditions—chief among them being that Mercedes actually develops the tech by 2020—Uber also reportedly considered Tesla.
G/O Media may get a commission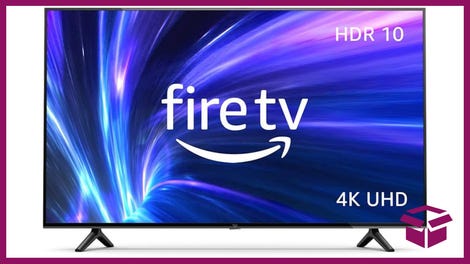 42% Off
Amazon Fire TV 50" 4K Smart TV
With Google's recent push to make autonomous cars legal if they pass safety tests, and now a huge down payment from Uber on its driverless plans, looks like human-piloted transportation is beginning to depreciate in value.
[Reuters]