HBO and Amazon just put a ring on it with a giant, multi-year deal that will put HBO originals on Amazon Prime exclusively. Woooooo! That means you don't need an HBO subscription to watch old episodes of everything from the Wire to Eastbound & Down. And in this game of everything-but-Game-of-Thrones, everyone wins; Amazon, HBO, and you, dear TV watcher. Everyone, that is, except maybe Netflix.
The best deal in tech gets even better
Amazon is now the proud owner of what is essentially HBO Go Lite: (almost) all of your favorite HBO shows, with none of the cable TV. Amazon is consistently snapping up some of the best and most exclusive content in the streaming universe. It already locked down exclusive rights to Downton Abbey for a long time, and now (a pretty generous selection of titles from) the HBO library. The gets just keep getting bigger.
Moreover, that $20 Prime price hike that hit earlier this month just became even more worth it. Amazon Prime was already one of the best deals in tech before all this. Granted, it's not like that extra money is going directly to funding this deal or anything, but this goes to show Amazon is willing to spend big on really high-value exclusives.
Before this deal, you'd still have to pay over a hundred bucks a month to get HBO, since you need that cable TV, of course. Sure, some Comcast subscribers can get standalone HBO plus high-speed internet, but that's nowhere near common. Now, all you need is an internet connection and an Amazon Prime subscription. (Unless of course you're a Prime password thief, but that's another issue entirely).
This upward trajectory of adding content to Amazon Prime means there's almost definitely more to come. For now, the HBO deal is almost all back catalog, leaving out current episodes of Girls and Veep, as well as all of Game of Thrones and True Detective. So it isn't total cord-cutter dream even though certain (soon-to-end) current titles like Boardwalk Empire and True Blood are included.
G/O Media may get a commission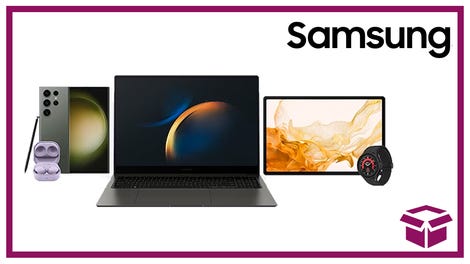 24 hour deals
Discover Samsung - Daily Deal
But that could be just "for now" territory. Amazon's been making great progress in bagging exclusive content. They already gone exclusive with Viacom, so they have everything MTV, Comedy Central, VH1, etc. They've also locked down 24, Veronica Mars, and plenty of other stuff you won't find anywhere else (except traditional cable). There's a trend here.
HBO goes (kind of) cable-free
HBO benefits, too, of course. This deal allows HBO to step away from cable and dip its toe into the a la carte, internet-only waters, in a way that isn't wildly offensive to cable companies. You're probably still ponying up for cable internet after all, and the only way to keep up on the real must-watch HBO shows as they happen is to sign up for HBO the old-fashioned way. Or to steal someone else's HBO GO password.
And both of those are fine for HBO. This deal still allows HBO to hang onto its familiar method of doing business: making money by doing deals with distributers. HBO doesn't have to go the Netflix route and going straight to consumers; instead it gets a new infusion of moolah thanks to Amazon, an infusion that's totally independent from piracy or moochers. So whether you switch from piracy or your Mom's HBO GO password to Amazon Prime or not, HBO is still getting its due.
New shows for you
Then, in this three-way tie for first place, there's you. The benefits are pretty obvious. Amazon Prime was and is a good deal to begin with. Even with a price hike, and even if this HBO deal had never happened. Now it's even sweeter. You get all the goodness of a Prime subscription like free shipping and instant video, along with the luxury of revisiting season one of Sopranos whenever your little heart desires. No, you still can't pay for just HBO; you have to pony up for a package deal. But Amazon Prime is at least uniquely useful, unlike cable.
But not so much for Netflix
But if there are winners, there must be losers. And Netflix is in last place. It's on the receiving-end of a pretty big middle finger from HBO, a company it's explicitly trying to emulate. This is a big step forward for the future of streaming for both HBO and Amazon and it leaves Netflix in the dust, holding its meager-but-growing stable of exclusives. Yes, Netflix still has big blockbusters like House of Cards and Orange Is the New Black, and it definitely still has stuff you want to watch that Amazon doesn't. But you'll never be able to use Netflix to order a birthday gift for your niece with two-day shipping, let alone watch an entire season of Treme. That makes the upcoming Netflix price increase a little harder to swallow.
Until now, we've lived in this purgatory between traditional cable and the frequently promised, but rarely delivered on, future of TV. We're not there yet, but the marriage of HBO and Amazon means we're a hell of a lot closer. And if it turns out to be a happy union, it's easy to see how this deal could go further a little down the line. And while that's not a-la-carte HBO in its purest sense, at least Amazon Prime is cheaper than cable TV.