There's a new Star Trek movie coming out in three months—but Star Trek Beyond might as well be shielded by a Romulan cloaking device. It's been four months since we saw the film's first trailer, and since then the film's marketing has gone almost completely silent. Then, this week, things only got weirder.
This week was CinemaCon 2016, a major convention in Las Vegas for film exhibitors. It's basically Comic-Con for theater owners: Film studios show sizzle reels of their upcoming films, parade out their stars, and get the bigwigs excited to book these films into their theaters.
Some studios bring unfinished footage. Others bring a first look at full movies. Most though, cut exclusive, extended trailers for the audience, that nobody else gets to see. (Like the ones we wrote about all week.)
The studio releasing Star Trek Beyond, Paramount Pictures, took the stage Monday night as part of the opening ceremonies. For most of their big upcoming releases—Teenage Mutant Ninja Turtles: Out of the Shadows, Ben Hur—they showed the latest trailer with about a minute or two of extra footage. They also revealed the first footage from the amazing looking Story Of Your Life, a new Robert Zemeckis movie, the new Jack Reacher movie, had Vin Diesel film a message from the set of XXX 2, and even showed footage from Baywatch, which opens Summer 2017. They weren't shying away from anything.
And yet Star Trek Beyond, arguably the studio's biggest movie of the summer which opens in three months, showed no footage. Not only that, but it was only briefly mentioned in a list of upcoming movies. They didn't even mention the release date, show the title, or reveal a new poster (as of press time, the film doesn't even have a full poster, except one with its title on it).
G/O Media may get a commission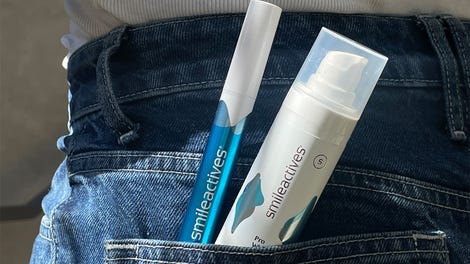 58% off
Whitening Powerhouse Pen & Gel Duo
This glaring omission became the talk of the entire week for press and executives alike. Walking through the convention, one would've thought Star Trek Beyond was the biggest movie there. The film's title was emblazoned up and down escalators. It was on posters in the hallways. There were cardboard standees. The director of the last two films, J.J. Abrams, was in attendance to be presented with the Showman of the Year Award by Simon Pegg. That happened on the Paramount panel. Abrams is a producer on Beyond and Pegg is not only the co-writer, he's a co-star. Everyone thought for sure they'd show something from the movie. Or at least acknowledge it directly. They did not.
Word was, before the presentation, Pegg told some press on the red carpet that he really loves the next trailer. Not that it was going to play, but that it exists, and he really likes it.
The obvious exclusion of Beyond from the panel set off a mountain of speculation all throughout the convention. Was the studio worried about the movie? Why wouldn't they at least show the old trailer? Is the production behind schedule? Are they just overly confident in the brand? No one knew for sure, but everyone was talking.
We asked Paramount about the decision to hold back footage and they told us it was "in order to create an exclusive experience for the fans of Star Trek first."
Which is just how things are going to play out. Wednesday afternoon, Paramount alerted press that there was an imminent announcement coming about a massive fan event. And then, Thursday, the official details were announced.
The fan event will take place May 20, and include "the premiere of the newest Star Trek Beyond trailer, an exclusive first-look of never before seen footage from the upcoming film, a Q&A with [director Justin] Lin and the cast and crew, special guests appearances, and other surprises. The Q&A will be streamed via Facebook Live."
"As a lifelong fan of Trek, we wanted to do something special for the fans and we couldn't think of a better way to do that than creating an event dedicated to them in the year that we also come together to celebrate the series' amazing 50th year," said Justin Lin in a press release.
That very well may be true. It very well may have been the plan all along. But then why not announce that plan at CinemaCon? Exhibitors would surely be thrilled by an event of this magnitude, to get their customers excited about the upcoming film. Plus, the May 20 date means another whole month where Star Trek Beyond won't get talked about on the level of similarly huge event films coming this summer.
After the Paramount panel ended, I tweeted about the Trek omission. A film fan Tweeted back at me: "I honestly totally forgot that a new Star Trek movie was coming out this summer. Not a good sign."
It's not—but competition is rough out there, and timing is everything. Marketing a movie too early, or with too much content, could be a huge mistake. But the same goes for doing too little, too late.
Paramount is dancing on that line as we speak. When the first trailer was revealed, Justin Lin was open and willing to talk about it. Friday morning, the studio finally revealed the first official image from the film, of Idris Elba's villain character Krall. There certainly may be stuff leading up to the fan event too. The studio is not ignoring this movie, by any means. It's just been much, much quieter than other genre films coming this summer, and the hiccup this week definitely raises some questions. Whether or not this is a strategic call, as the studio says, or something much worse, will be revealed on July 22.