Could Terminator 5 still forge ahead, even without Arnold Schwarzenegger? Sam Worthington declares war on outer space, while Big Man Japan comes to America. Plus a Dark Knight Rises set photo, more on a Green Lantern cameo, and more!
Spoilers ahead!
Top image from Transformers: Dark of the Moon.
The Avengers
An article on the economics of big budget movie-making features a quote from "one producer familiar with Marvel's dealings", which suggests that, in order to keep costs down, the movie's biggest name star Robert Downey Jr. will work only three or four weeks, while the film maximizes the screentime of still relatively cheap actors like Chris Hemsworth and Chris Evans. [New York Magazine]
---
The Dark Knight Rises
G/O Media may get a commission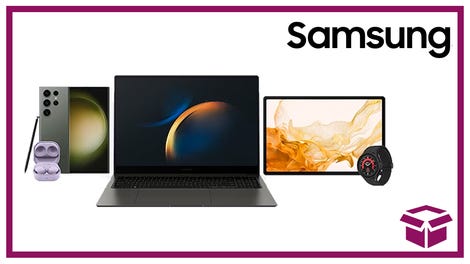 24 hour deals
Discover Samsung - Daily Deal
Here's a set photo of a man in a black mask jumping out of a Croydon skyscraper, which looks a bit like the scene we heard about yesterday, except Bruce Wayne is nowhere to be seen. The obvious conclusion here is that the man in the suit is Bane, but the fact that he's wearing a black mask has pretty much forced the internet to wonder whether it's really Black Mask. (I mean...it's right there in the name.) Or it could be another random villain or henchman. What we can say for certain is this - the latest Batman movie will feature someone jumping out a window. Or maybe that's just what Christopher Nolan wants us to think. [MovieWeb]
---
Green Lantern
Here's a bunch of new clips.

Following up on yesterday's news about Nick Jones playing possible future Green Lantern John Stewart, commenter sick_and_ashamed pointed out that Jones had previously tweeted he's playing an ex-marine who meets Ryan Reynolds's Hal Jordan at a bar. That would tie in with another Jones comment that "I can only say if you have read Secret Origins, you kind of know where we are going." Since Jordan and Stewart get into a barroom brawl in the recent Secret Origins book...well, I guess we do now kind of know where they're going. We will continue to cover every last detail of all this until we solve the mystery or lose interest, whichever comes first.
The early buzz for the movie has been quite positive so far (which admittedly can be just as much about the movie's marketing as its actual quality), with the early reactions praising the movie's mix of action and humor, plus Ryan Reynolds's performance. [/Film]
---
Super 8
Here's a six minute sneak peek.

---
Star Trek 2
J.J. Abrams says he has no plans to shoot the movie in 3D, but he also admits he hasn't had any discussions with Paramount with it yet. He also said that he would rather make sure the film is done right, even if that means missing the original deadline - which seems like a decent that the movie will indeed be moved back to December 2012. [CinemaBlend]
---
Rise of the Planet of the Apes
Here's a featurette.

---
Terminator 5
Despite the complete implosion of Arnold Schwarzenegger's personal life that has put his big acting comeback on hold, rumor has it Terminator 5 is still going ahead, reportedly with plans to reduce Schwarzenegger's screentime to reduce his work commitment and make it more likely for him to sign on. The other rumor is that director Justin Lin wants his Fast Five cast member Paul Walker to play Kyle Reese, which may just be the first piece of a general recasting of the original movie's actors, along the lines of J.J. Abrams's Star Trek. Of course, take all of this with a grain of salt until we hear something more official. [What's Playing]
---
Transformers: Dark of the Moon
Here's a new TV spot.

---
Big Man Japan
The 2007 Japanese cult film is reportedly getting an American remake, with Clash of the Titans writers Phil Hay and Matt Mandredi working on the script. Hitoshi Matsumoto, the star and creator of the original film, will also be involved in some capacity. For more on the original movie, you can check out my review from a couple years ago, which happens to be one of the very first posts I ever wrote for io9. [Variety]
---
Area 51
Paranormal Activity director Oren Peli explains where his latest found footage sci-fi horror movie stands:
Area 51 is like Paranormal Activity. The additional photography for Paranormal Activity, we went back 50 times. The great thing about doing extra shooting for inexpensive movies is that the cost is low, so we screen and shoot and screen and shoot. Oren and I were pulled away from Area 51 a lot for the second Paranormal. Once that came out, we ramped up on Area 51 again. I anticipate the movie will be mostly done in about three or four months. They can't set a release date yet until we do all of that.
---
Ecstasia
The Cooler director Wayne Kramer will reportedly write and direct a scifi drama. Here are the details:
Set in an "alternate universe," the drama occurs at a time when love no longer exists, except when it is artificially simulated through a costly procedure called "commitment." Ecstasia is accomplished through computer chips implanted in each couple. They are incredibly expensive to maintain, comparable to managing a mortgage. Those who cannot meet the cost are forced into "dissolution," which ends the emotional link. Kramer's film revolves around a man and woman who are 10 days away from losing their "commitment," trying desperately to refinance their love.
[Deadline]
---
Untitled Space Project
Sam Worthington - you know, that dude from Avatar - has reportedly signed on for an untitled sci-fi project about a war in outer space. The movie is written by Contraband's Aaron Guzikowski and produced by Clash of the Titans's Basil Iwanyk. [Deadline]
---
G.I. Joe 2
Dwayne "The Rock" Johnson is reportedly in line to join Jon Chu's sequel as Roadblock, who is one of the characters from the original cartoon. [<a href="http://www.firstshowing.net/2011/dwayne-johnson-looking-to-join-jon-m-chus-g-i-joe-cobra-strikes/]
---
Jaws 5
Steven Spielberg dropped this enigmatic hint about...well, about something:
No, no idea at all, but I have a very, very good scene which I thought would have been good for a sequel someday, which I will tell you someday because I don't want it in print. But I'll tell you my scene some day. Every time I think of this scene I think, "Hmmm, could this be another Jaws movie?" and I have to immediately stop myself and immediately pull myself back down to Earth.
[/Film]
---
Doctor Who
In this video, Steven Moffat and Alex Kingston usefully recap all the mysteries of the first half of the season, including River Song's identity, as well as which mysteries are still unsolved.

We're still a little ways off from seeing anything concrete for the next episode, the awesomely (and unbelievably) titled "Let's Kill Hitler", but here's a helpful compendium of all available set photos and videos, all accompanied by Limahl's 1984 movie tie-in song "The NeverEnding Story" for some unknown reason.

According to his CV, Torchwood writer John Fay - who is best known for writing Children of Earth's "Day Four", which killed off Ianto - is writing an episode, presumably for inclusion in season seven. That said, the vagaries of production could mean that the episode gets pushed back to season eight, or even not used at all. [Life, Doctor Who, and Combom]
---
Fringe
Anna Torv says that filming will begin in four weeks. [SpoilerTV]
---
Futurama
Season 6.5 premieres on June 23, and here are the details on the episodes in the hour-long premiere:
In the premiere episode, "Neutopia," the Planet Express crew crash-lands on an unknown world, where they encounter a bizarre alien who is unfamiliar with the concept of gender. The creature subsequently conducts a series of experiments, modifying the crew members' sexual characteristics in strange and wondrous ways.

In the second episode, "Benderama," Bender gains the power of infinite self-replication, producing a vast horde of smaller and smaller Benders. Comedian Patton Oswalt guest-stars as "Unattractive Giant Monster," a repulsive alien who is extremely sensitive about his appearance. When the giant's feelings are hurt by the people of Earth, it is up to Bender and his minions to fend off the giant's attack in an epic battle of Good vs. Ugly.

Special guest stars this season include Patton Oswalt, Dan Castellaneta, Stephen Hawking, and Buzz Aldrin. The show's entire original voice cast will be returning, including stars Billy West, Katey Sagal and John DiMaggio.
---
Eureka
Lots of Eureka photos today, starting with one of the cast. [SpoilerTV]
Now here are photos for the midseason premiere and eleventh episode overall, "Liftoff." [SpoilerTV]
Followed by episode 12, "Reprise." [SpoilerTV]
And finally episode 13, "Glimpse." [SpoilerTV]
---
Sanctuary
Here are some photos for episode 19, "Out of the Blue." [SpoilerTV]
---
The Nine Lives of Chloe King
Here's a poster, brief preview, and synopsis for ABC Family's upcoming summer show. [Daemon's TV]
In the one-hour scripted drama The Nine Lives of Chloe King, Chloe King is looking forward to celebrating her birthday with her friends and single mother, just like every other year…that is until she starts developing heightened abilities and discovers she's being pursued by a mysterious figure. Chloe soon learns she's part of an ancient race which has been hunted by human assassins for millennia -and that she may be their only hope for ultimate survival. The series premieres on Tuesday June 14, at 9pm.
---
Teen Wolf
Here's a description of episode three, "Pack Mentality":
Scott is excited for his first date with Allison, until it becomes a confusing group date with Lydia and Jackson in tow. Meanwhile, a mysterious animal attack occurs, putting Stiles' dad, Sheriff Stilinski, on high alert.
[KSiteTV]
---
Additional reporting by Gordon Jackson and Charlie Jane Anders.