Well it was another busy week here at Gizmodo. On top of Utopia Week, our week-long look at past, present, and future visions of a perfect society, we brought you reviews of new phones, cameras, and smartwatches, a hard look at beginning a life without Facebook, and a behind-the-scenes look at Jim Henson's phenomenal workshop. Let's review!
Most of us have had Facebook accounts for the past few years, if not a decade. But time and bloat have turned once-beloved font of nostalgia into an onslaught of faux-sentimental sludge from strangers. So as Facebook stands poised to break itself into a bunch of different apps, we say to you: Screw it. It's time to start fresh.
Those troops you saw in science fiction movies as a child are now real. A few years ago, many countries recognized a need to upgrade the individual infantryman and thus started their own "future soldier" programs. Most of them completed more or less the main priority objectives, applying them to some of their elite troops and special forces, bringing together commercial, off-the-shelf technology and state of the art military gear and equipment.
G/O Media may get a commission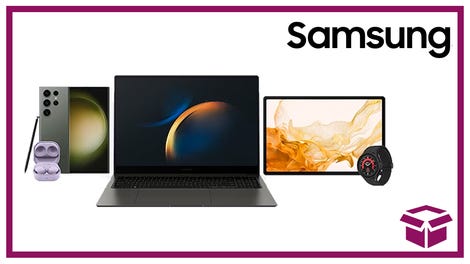 24 hour deals
Discover Samsung - Daily Deal
Like ghosts? Then you'll love Poveglia, a small, deserted island in the Venetian lagoon that's going on the auction block next month. It's been called "the island of madness," "Hell," and "the most haunted place on Earth." You'd just love it to pieces.
If you can say one thing about Samsung's Galaxy S line of smartphones, it's that they consistently pair some of the best hardware with inexplicable software. The S5 scales back Samsung's bells and whistles, which helps make it easily the best Galaxy phone yet. If only they'd gone even further.
Samsung's Gear Fit had every chance to be by far the best activity tracker you could own. It isn't. Not by a long shot. And there's nothing sadder than unrealized potential.
Pretty much all mirrorless cameras—Fujifilm X, Samsung NX, to name a couple—with APS-C size sensors can take a damn fine picture these days. The a6000 does its best to stand out with a pinch of style and updated tech, but it's still largely the same as the camera it's replacing, 2012's NEX-6.
It's not often that you get a chance to see the place where your childhood memories were literally built. It's kind of like peeling back the curtain on your dreams and finding the architects of them busily at work, pulling the strings, painting the scenery, and creating the characters you will vividly remember decades later. That's what it's like to visit Jim Henson's Creature Shop.
Windows 8.1's recent update was a subtle but effective boost. Windows Phone's 8.1 power up follows the same cues. It's not mind-blowing, it's not world-changing, it's nothing to jump around and scream about, but it turns Windows Phone into something it's never quite been before: an OS that's totally good enough.
Windows Phone 8.1 is here, and with it comes not only with a notification center(!) but a brand new Halo-flavored voice assistant. But how does Cortana shape up against her competitors, who have a year or two of experience on her? Surprisingly well.
Cortana is the newest member of the virtual assistant family, so we thought we'd get the whole crew together for a chat. Turns out getting a sit-down between Siri, and Google Now is not only funny, but also a great glimpse at how the world will work after the machines finally take over.