The Metropolitan Police said on Sunday that 44-year-old Dawn Sturgess, one of two more individuals exposed to the Soviet-era nerve agent Novichok in the UK this week, has died.

In a statement to CNN, UK Counter Terrorism official Neil Basu said that "This is shocking and tragic news. Dawn leaves behind her family, including three children, and our thoughts and prayers are with them at this extremely difficult time."
The other individual exposed to the toxin, 45-year-old Charles Rowley, remains hospitalized and in critical condition.
Novichok, which the Soviets developed in the 1970s and 1980s as a next-generation nerve agent deadlier than others like VX or sarin, was the chemical authorities identified as the substance behind the poisoning of former double agent Sergei Skripal, his daugher Yulia, and a police officer in Salisbury in March. According to Reuters, the non-profit Nuclear Threat Initiative believes that at one point, Russia had stockpiled "thousands of tonnes" of the nerve agent. While Russia made a point last year of destroying its last remaining stockpiles of publicly declared chemical weapons, Reuters noted that it is "not believed to have ever declared Novichok or its ingredients to the Hague-based Organisation for the Prohibition of Chemical Weapons (OPCW)."
The Skripals, as well as the police officer, have recovered. Authorities are still investigating the incident, which has been widely speculated to be a revenge hit by Russian intelligence services or organized crime—part of a pattern of allegedly suspicious deaths of supposed traitors to the Russian state living abroad in the UK. For their part, Russian government officials have denied all involvement, while at least some British officials have urged caution in attributing blame.
G/O Media may get a commission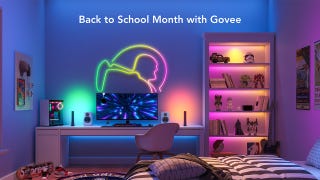 Back to School
Back to School Month with Govee Sale
Per CNN, authorities currently believe that Sturgess and Rowley came into contact with a contaminated item via their hands, but currently lack the ability to determine whether the poison is from the same batch that the Skripals ingested. The Guardian previously reported that Sturgess and Rowley resided "barely eight miles" from the site of the Skripal poisoning. It is likely that Sturgess and Rowley were unintentionally exposed to Novichok used in the original attack that somehow survived extensive British cleanup efforts.
Per the BBC, both counter-terror officials and police are involved in the investigation into Sturgess' death, while a post-mortem examination (autopsy) is planned:

A post-mortem examination of Ms Sturgess, from Durrington, is due to take place and her family has been informed, police said.

The investigation is being led by detectives from the Counter-Terrorism Policing Network and about 100 detectives are working on the case alongside Wiltshire Police.
The Guardian wrote that while British health officials still say there is no broader threat to the public, they are still advising locals to avoid picking up objects such as "needles, syringes and unusual containers."
[CNN]